New York City has been under fire for at least a year. Everything negative you could imagine in the financial sector has occurred in this city. The global financial earthquake had its epicenter here. Yet the climate is still positive.
Museums are crowded, tourism is growing, and many smaller businesses are flourishing. NYC thinks positive: Tomorrow the sun will shine brightly again. New Yorkers have long thought of their city as the center of world, both financially and culturally. So it is not hard to look around, roughly two years after the nationwide recession took hold, and wonder if the city is no longer what it was. Lehman Brothers and Bear Stearns no longer exist. The media industry is shedding jobs. Not to mention that, the Tavern on the Green, the storied and once wildly-successful restaurant, went out of business at the end of 2009.
SIGNS OF RESILIENCY AND RECOVERY
Yet, there are some signs of resiliency and recovery—both locally and nationally—indicating that the downturn may not be as bad as predicted. Unemployment remains high. Some 10.6 percent of city residents are out of work, up from 4.4 percent in February 2008, while job losses are expected to continue until the second half of this year.  And, according to the New York Fed, unlike some of the recent economic downturns, the city has not fared as well as the rest of New York State, where unemployment was 9 percent as of December 2009, a 26-year high. Even though New York City officially entered recession later than the rest of the country, many of the very things that make the city an international center have rendered it susceptible to the latest downturn.  Its signature industries, such as financial services, the media and the law, have been battered. Wall Street has lost about 40,000 jobs in the current recession. Because of the outsized salaries that have also been lost—financial services account for about 12 percent of the city's jobs, but as much as 30 percent of its total annual salaries—there has been a ripple effect on the city's tax base and  also on other industries, such as legal services and marketing.
JOB MARKET
The areas with the most job growth are lower-paying industries, such as healthcare and education. Charles Geisst, a finance professor at Manhattan College and author of A history of Wall Street, thinks the city's economy will remain largely unchanged over the next year. "I think the problems we have now are the same problems we're going to have in December," he says. Still, things may not be as bad as they seem.  Wall Street firms saw record profits last year. Though job cuts are continuing, the mayor's Budget Office now expects the city to lose 100,000 fewer jobs than predicted in June, while local and national economies are expected to start growing this year. "Job losses have moderated significantly", explains Ronnie Lowenstein, director of the city's Independent Budget Office, adding that sectors such as construction and transportation are starting to see a turnaround. Despite dire predictions to the contrary, violent crime in the city remains at historically low levels.  New York City was once again the country's number one tourist destination in 2009. Museum attendance is up, and new restaurants are opening.  Meanwhile, many small and mid-sized businesses are flourishing.  As the interviews on this page show, with a good product and resilience, businesses can survive: even in challenging times.
SUCCESSFUL STORIES IN NEW YORK CITY
A fairy tale-like city, with a huge amount to offer. Many people are able to fulfill their wishes and realize their dreams. Achieving success in New York is tough, and depends on one's area of expertise, which may require a high degree of specialization. At times, some simple rules are enough to achieve success. We asked six entrepreneurs how they have achieved their dreams in NYC, despite this period of crisis.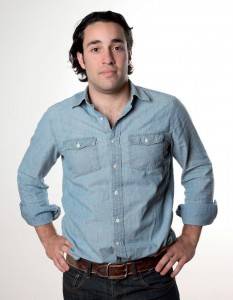 1 David Goldberg is a partner and Chief Marketing Officer of StyleCaster, the one-stop source for a personalized style experience combining engaging content, social media, and shopping. The average StyleCaster member is female, aged 18-34. The success of this company, according to its founder is "The outcome of working as a team. I have been extremely fortunate to be surrounded by very talented people. In particular, leveraging the strengths of StyleCaster team members, advisors, investors, and my two business partners, Ari Goldberg and Albert Azout, has allowed me to focus my energies on building the aspects of our businesses that I oversee," says David.
David's advice on how to succeed in NYC
• Be nice to everyone (even if they are not nice to you);
• Get out and meet people. From artists to bankers, everyone has a story and is worth listening to;
• Stay connected!  Text, e-mail, call;
• Dine Out! The way to a true New Yorker's heart is through extensive culinary knowledge!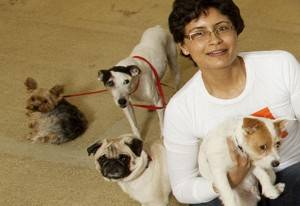 2 Anisha Khanna is co-owner, with Dan Rubenstein, of SPOT, a full-service pet lifestyle facility. Spot began as a single store in Tribeca, and has expanded, opening locations at Newark International Airport and in Chelsea. Spot provides a full range of services for busy, loving pet owners, including daycare, boarding, grooming, training, walking, pet sitting, a shuttle service, and specialty retail. "Our clients are busy professionals and pet owners who want the best for their pets, and they are here to make city life as comfortable and luxurious as possible for their dogs", says Anisha.
Anisha suggests that you
• Provide the highest possible care and customer service. It's important to remember that you're doing more than just selling something;
• Make sure that the business addresses a real need, and that you have a way to set yourself apart from the competition;
• Make customers feel comfortable and cared for, be flexible;
• Take customer suggestions to heart;
• Look for ways to improve service and provide the best possible care for clients.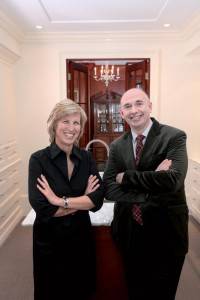 3 Mary L. Kocy, the co-founder of Rusk Renovations, one of New York City's pre-eminent residential contractors and one of the 50 Best Contractors in the US specialized in Manhattan high-end renovations, says the golden rules are:
• Tell the truth;
• Be fair;
• Cultivate outside interests.
With these simple guidelines Mary adds, "I have had several careers in my life, but they are similar in one respect.  In each,  I've worked to make connections between people that I personally find interesting for everyone's mutual benefit". In terms of her business, she reports that "an independent rating system of high-end New York Contractors, showed that we rate 4.5 stars out of 5 for quality, but only 3.5 stars out of 5 for cost.  We found that our clients were concerned about the financial health of the organizations that they considering doing business with, and we have been careful to maintain profitability.  Our Dunn and Bradstreet rating also rates us in the 98th percentile for paying subcontractors.  This gave us the ability to get preferential treatment and pricing from the best subcontractors in New York."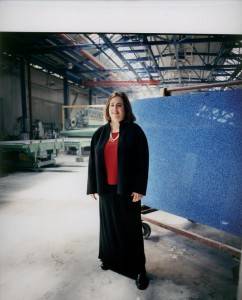 4 Miranda Magagnini, the creator of IceStone, focuses on the triple bottom line by maintaining  concern for people, planet, and profits. The IceStone product, which is made from 100% recycled glass and cement, provides a highly durable concrete surface. These slabs are cut, and installed just as if they were mined stone. IceStone is used for countertops, bathroom vanities, conference tables, and reception areas. In short, anywhere you would use mined stone. Miranda says,"We make slabs in 29 colors: our palette consists of neutrals, earth tones and vibrant high design colors." IceStone has been installed across the country.  Miranda says her success is due to the fact that  "everyone at IceStone works together to help us achieve our goals. We work hard and have fun. Personally, I am driven to create a work environment that people want to be a part of, where their voices are heard. We have a collaborative work environment. Perseverance is our mantra."
5 Mark Fortier is the owner of a niche PR company called Fortier PR and works with many of the world's bestselling and best-respected business authors and  business thinkers. The question that  Mark suggests people consider is: Will there always be demand for your service or product, or is it something people might skip when budgets tighten?  The answer, it seems, is  that "Authors will always care strongly about the success of their book, and won't skimp on this investment. More than most places in the world, New York is the center of many industries that thrive by having specialists of all kinds." He suggests that people think of ways to offer a specialized service to a niche industry. "You can often find greater success the more focused you are," he explains. The recession has popularized outsourcing. This is a huge opportunity for small businesses to profit  by offering services that were once done in-house. Mark is aware of the fragility of the market and consequently he suggests, "Look around to see where you find very high demand for something, aware that the better you know your customer and what they care most strongly about, the better chance you'll have of succeeding in any business."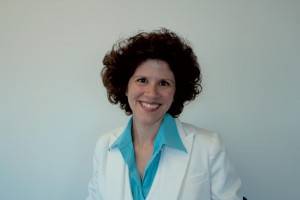 6 Jennifer C. Loftus is a founding partner of Astron Solutions, a Human Resources consulting firm headquartered in New York City.  "We specialize in compensation and total rewards consulting, employee surveys, and web-based talent management technology.  We have over 250 clients  in the USA. Approximately one-half of our clients are non-profit organizations." In her free time, Jennifer is an Adjunct Professor of Human Resources at Pace University, and is also President-Elect of HR/NY, the New York City Chapter of the Society for Human Resource Management (SHRM).
Jennifer's success is based on a variety of factors
• Persistence;
• Patience;
• Determination;
• Motivation to succeed;
• Timing;
• A love of learning;
• Continuous networking;
• Not letting fear hold me back from experimenting or trying something new;
• Effective time management;
• A willingness to give freely without expecting an immediate benefit;
• High energy;
• A touch of divine intervention.
Facts & Figures
• New York is the country's third-largest wine-producing state, with more than 250 wineries growing over 35 varieties of grapes
• The original "Uncle Sam" was a meat packer from Troy. Sam Wilson's meats helped feed soldiers during the war of 1812
• America's women's rights movement began in the Finger Lakes region in 1848
• New York State is home to 58 species of wild orchids
• Nyc's subway passenger ridership in 2008: 1.62 billion riders
• Gennaro Lombardi opened the first United States pizzeria in 1895 in New York City
• The Big Apple is a term coined by musicians meaning to play the big time Joseph C. Gayetty of New York City invented toilet paper in 1857
• New York was the first state to require license plates on cars