From Willy Wonka, the eccentric chocolatier brought to life by children's author Roald Dahl in 1964, to the never-ending media fixation, we are constantly reminded of the magic of chocolate. Delicious and with real benefits for mind and body, chocolate is also a medium. And many now dedicate their life to creating art with it.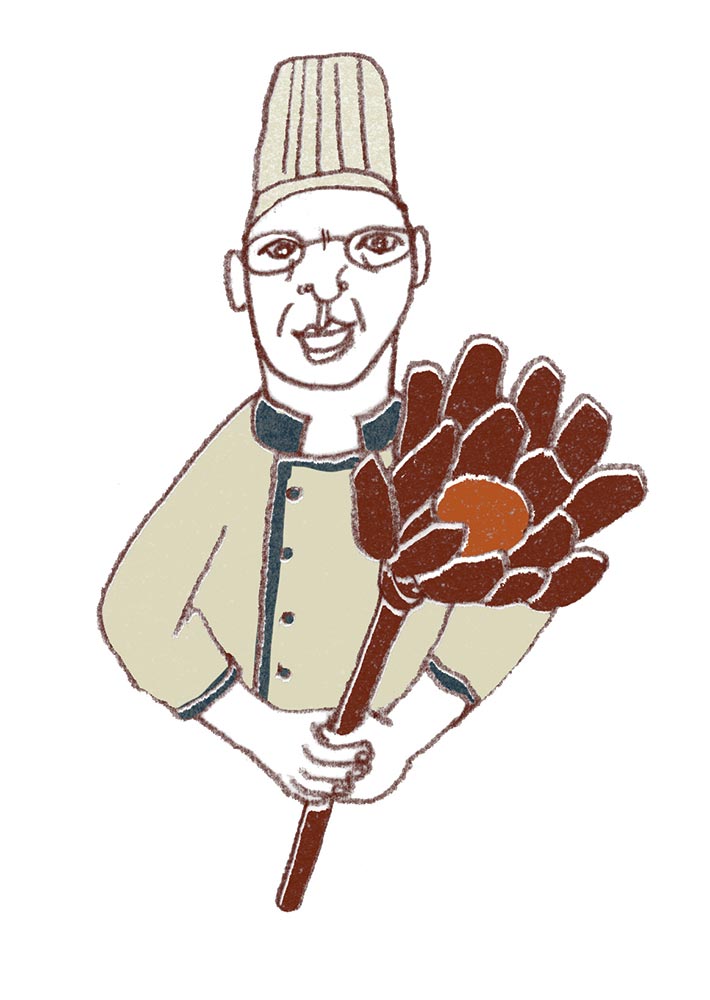 The background needed to enter the field seems to vary from art to culinary schools, as Christine Taylor, director of Choccywoccydoodah in England explains,: "My team of artists and sculptors are all required to have art degrees in illustration, design or sculpting. I am not interested in their experience, just in their potential to create beautiful things from chocolate, once trained to understand chocolate as their medium." All of her chocolatiers are trained in-house and she deliberately employs people who can be trained by her and start with a clean slate. The training, however, can also be culinary, as Natascha Schwarzer, director of the Barry Callebaut Academy in Switzerland explains. "It is different in every country. I started with a 10-month baking and pastry college course in Canada, but knew I wanted to live and work in Switzerland as they are known for their pastry and chocolate. I was fascinated by the product and did a bunch of private courses in chocolate showpieces, pralines etc., throughout my apprenticeship and now career." Another great way to break in is to work for the chocolate giants, like Lindt. This will give you the chance to visit cocoa plantations, take technology courses and deepen your knowledge and skills. Ernst Knam, German maitre chocolatier who has worked with Italian cuisine institution Gualtiero Marchesi says, "The very best thing is to learn the art of patisserie, ideally through apprenticeships that exist in countries like Germany, France and Switzerland, where you have one day of work in a patisserie and one day of school where you learn theory. This lasts for three years, and every six months there are exams." Carma Chocolate Academy focuses on professionals and offers further educational courses, Schwarzer explains. "The academy offers Level 1-4 courses, which start at the very beginning: where does cocoa come from; how does it become chocolate. It then moves on to the skills needed to work with chocolate, and finally to the creation of hollow figures and ganaches/truffles, decorations, etc. For more advanced professionals, we offer recipe technology courses, special bon-bon courses, sculpting, showpieces, desserts, for both buffet and a la carte, pastries and gateaux; and currently there's a very new course on design and presentation, as well as on how to make 'healthy' or 'special,' as in gluten-free, chocolate desserts. All courses focus mainly on chocolate."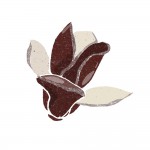 In Italy, there are also options for those who want to become chocolate sculptors at the Italian Master Chocolatiers Academy, as Mirco Della Vecchia, maitre chocolatier and founder of the academy explains. "The academy organizes 3-month courses for aspiring professional sculptors, as the art of sculpture is difficult to learn, and you need to assess properly whether people are prepared or not. After that, it just takes hard work and passion." There are also professionals such as Christina Tantsis, creative director at Sisko Chocolate in Australia, who claims, "When it comes to chocolate sculpting, the best way to learn is through master classes hosted by MOF chocolatiers. Most culinary schools would have such master classes."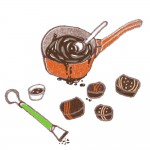 NO REAL SKILLS NEEDED
Being a chocolatier doesn't require particular practical skills, says Christine Taylor. "Patience, the ability to work in a team, and independent and original thinking are required. One needs to enjoy chocolate, eat cake everyday, understand the importance of creating a gift as a statement, and take pride in what the job entails, whether it's washing up or baking for Whoopi Goldberg." Schwarzer and Della Vecchia are like-minded. According to both, there are no inherent skills. One must be creative, passionate about chocolate, and patient. Della Vecchia adds: "Sculpture requires many hours of work." According to Ernst Knam, other important "soft skills" include respect, punctuality, and an artistic flair. "It also helps to speak many languages!" It should be added that an understanding of gravity and pressure points is critical. "An eye for design is essential for a visually pleasing piece, but without the basic knowledge of chocolate's limitations and how far you can push it, your design may not be structurally possible," adds Tantsis.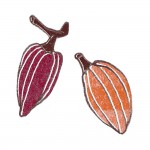 EVERYBODY LOVES EATING CHOCOLATE, AND MAKING IT
Maitre chocolatiers can't find many disadvantages working with chocolate, since they're all driven by passion. But the disadvantages described by many include the time-consuming nature of the work and the difficulty in estimating the time needed to finalize an original design. Also, chocolate, "unlike wood or ice, is very expensive," says Della Vecchia. And the work doesn't always pay well. The advantages, on the other hand, are many. "It's my creative outlet. I love creating pieces for clients, knowing that it has a special meaning for them, or that it's for a special occasion and will be enjoyed with colleagues, friends, or family," says Tantsis. According to Schwarzer, everything is an advantage when working with chocolate. "You make people happy. You can be creative and see your results."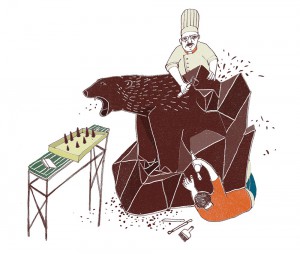 IT'S A BEAUTIFUL AND DIVERSE DAY
Days are never the same; that's what you hear from many maitre chocolatiers. "When we are shooting our television show, it's a full day in front of the camera, sometimes at work, sometimes on location," says Taylor. "Then there's the day-to-day running of the business. Other times, I am working closely with my team to get the new season's collection designed and underway. I am also very strict about looking at most emails and correspondence that come into the company.
At least once a week, I'm on the shop floor, meeting customers, chatting, and getting a sense of whether or not we're moving in the right direction." There are marketing shots, recipe preparation,
teaching, and organizing events. "I have my dream job, and for me there is no typical day, but great variety where I can use my creativity and skills differently each day." For Della Vecchia there also is no typical day, but a typical week, often filled with travel. "Flying somewhere in the world, encountering new people and new customs, adjusting within the first two days and then leaving with a sculpture that, on average, takes ten working hours for three to four days, depending on the difficulty—that's typical."
A LOT OF HARD WORK, BUT ALSO REWARDS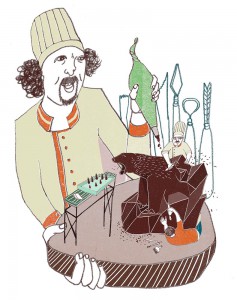 According to Knam, the most rewarding experience is watching the eyes of a child as he enters his lab and sees the chocolate fountains. That's when he asks if he can dip his finger into it. "Their eyes become so bright and so big–that's the best part. It's like being in the Chocolate Factory movie." Since chocolate is beneficial for the mind, it is no surprise that maitre chocolatiers are emotional. "I love hearing the oohs and aahs when people walk into the studio," Tantsis says. "I love hearing people discover something new, something they have never seen before."
As a boss, Taylor finds the people rewarding. "My staff, who have all come to me from different walks of life, some through a tricky journey, are loyal, proud of what they do, and in love with each other. And my customers, many of whom are as maverick as the Doodahs, are great. Many are quite emotionally involved with the company. We give love and joy, then get it back in waves. Who wouldn't find that rewarding?" Della Vecchia's perspective is practical. He thinks that the most rewarding aspects are the ability to travel and see the world, and he enjoys the fame that comes with the job.
A LAST CUBE OF ADVICE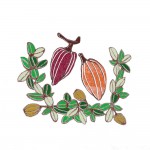 Whether you want to be the next maitre chocolatier, own a patisserie, or work with chocolate for pleasure, here is some advice. "Keep playing with chocolate," says Christina Tantsis. "Get comfortable with it and then start the creative process. Be your own person and create a style that reflects you." Ernst Knam reminds you to "keep in mind that it's a very demanding job. You are forced to stand for many hours when creating designs. Also keep in mind that, although it's a profession that will never die, chocolates are still luxury goods. We're not making bread!" Mirco Della Vecchia, who seems to have a much more pragmatic approach, advises you to do a good assessment of your ability, patience, and commitment before spending money on courses. He adds: "If you think you've got what it takes, do a course. Learn sculpting first, since once you know the technique, you can use it to create art." Finally, "Whatever the question is, chocolate is the answer," declares Taylor.
[W    barry-callebaut.com    carma.ch    choccywoccydoodah.com    corsidicioccolato.it     eknam.com     marchesi.it     meilleursouvriersdefrance.info     siskochocolate.com.au]
Published in the hard-copy of Work Style Magazine, Fall 2013