Yeguada Blanca Domecq y Zurita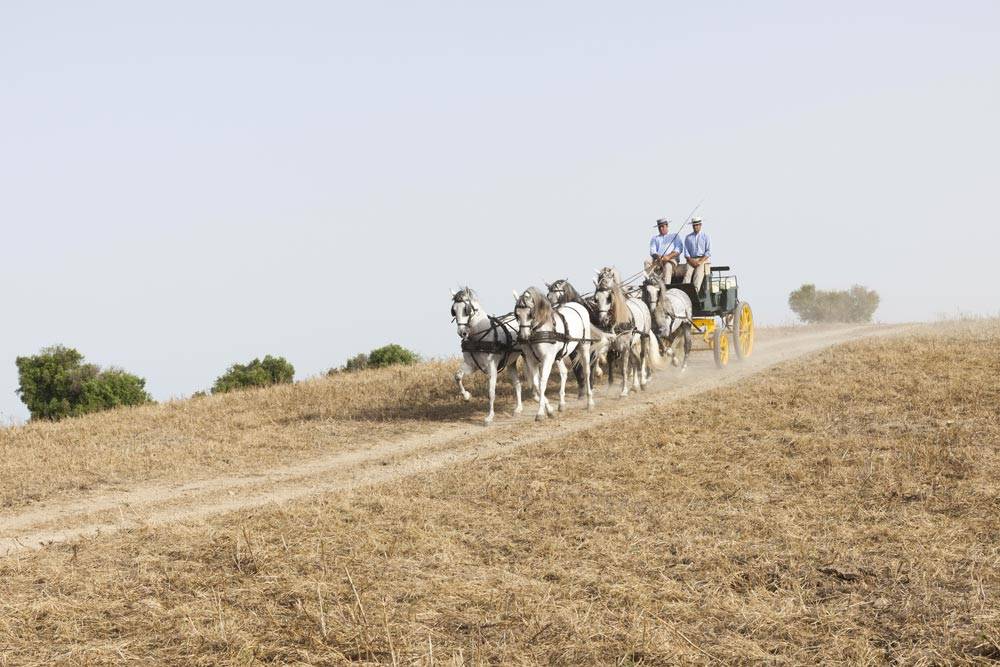 LOCATION
It's quite easy to reach, in the south of Jerez de la Frontera, after Lomopardo, just follow the country road. After some kilometres, turn right. The gate of the Finca speaks clearly: it will be a visit to one of the most beautiful properties of the whole region, on the same level with Bohorquez and Alvaro Domecq visited in the past years. The structure is articulated but simple. Around a huge and really neat courtyard lies the stables dedicated to the animals and the family country house. We are here to focus on the animals, even if the view of the house and its beautiful garden and the swimming pool immersed in the Jerezan countryside is amazing.
BLANCA DOMECQ ZURITA
Blanca Domecq y Zurita here as in Spain is an important woman in the sector, even for the prize "Caballo de oro" received in 1985, an acknowledgment of the town of Jerez awarded to the best breeders and people who dedicate themselves to this subject. In Jerez, horses are on the same level with the wine in Bordeaux and mortadella in Bologna. It's an unavoidable element of the culture of the town and only few people can receive this award. For women it's a double honour because really few of them have received it thus far.
Horse breeding is still a man's world, but a lot of competent women are working in the sector and – in our humble opinion – something is going to change in the future.
THE FINCA
At the finca Dehesa Spinola we met Salvador Moreno Suarez, manager of the structure and the staff dedicated to the horses. In the images of this article we can see the colts and the horses of the house and a fabulous coach and six photographed in the countryside surrounding the farm.
The finca is enormous in terms of extent and typology of cultivated land. The horses live free with their mothers until they are three years old. Then, they start the training.
Among the particularities of the finca we visited the garage, kept well as if it was a jewelry store, where historic carriages of great value are parked and surrounded by the festive harnesses for the horses.