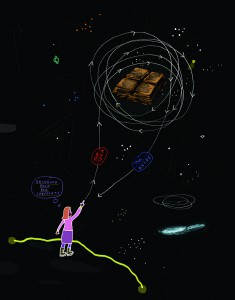 Taste
by Gastone Farolfi
The first thing I note each morning is that we produce perishable products, and at the same time our customers expect the highest quality, considering our prices. Rules in my job are: provide customers with adequate service and maintain our reputation. After all, we're Swiss and our chocolate is renowned. To provide flawless service to our customers, I must give satisfactory answers both in terms of timing (replies to emails are expected within the hour) and of details. I must be precise about what I can provide for their project. I landed a job at Swiss Chocolate because I'm a gourmet, and I've always loved chocolate. It is a fantastic product if we think about the fact that it's made with just three ingredients and yet is world famous. I work in a world that produces something extremely healthy, whose health advantages are yet to be fully discovered. Chocolate is a live product, and its industry is in constant movement. Icarus finally had to face the fact that if we don't respect rules, we won't go anywhere. A great thing for each of us would be to become passionate about rules. They may be stop signs along our road, but if rules are clever, harmonious, and designed to foster ideas and not stop them, they can help us develop a passion. Passion is what makes you find ideas and believe in the impossible. Rules can help prolong a passion and give you the opportunity to repeat it over time, efficiently. If man reached the moon, it was because someone believed it was possible, Then too that same someone followed the rules that would ensure his return.
Creativity
by Jason Furness
As someone who has run large manufacturing businesses and seen best practice all around the world, I observed passionate people daily. Here are three primary sources of passion that I see in people in these industries.
Service. Help your client to have a better life. I know people who do highly repetitive work hundreds of times every day. They are passionate about making sure every part is perfect so as to guarantee that the customer will enjoy his new purchase.
Creation. Creating something new! Whenever a new model vehicle was being built down the assembly line at GM, or a new fridge was being trialled at Electrolux, everyone was interested. People cared, and they were excited to be part of creating something new.
Connection. Many people are passionate about working with others to achieve a greater goal. We enjoy the idea of working with like-minded people on a project.
Rules and passion in manufacturing live together. Without passion, there would be no drive to innovate and improve. Without rules, we would lack a framework for analysis and decision making. The two together allow creativity to be brought into reality.
Social Relations
by Tom Ridgman
I work for an old University that believes in academic freedom and therefore has very few formal rules. The cultural rules are that you have to aim to do everything to a world-class standard; you have to raise your own money; and you have to use the privilege of your position to address the hard problems of the world. I am passionate about educating young engineers and trying to understand how engineering education can be made more relevant to industrial practice. There is little conflict between the overt rules and the activities I'm passionate about. However, the increase in administration and bureaucracy is limiting the time I can spend on things that add value.
[W cam.ac.uk] 
Published in the hard-copy of Work Style Magazine, Fall 2013