Warning
: A non-numeric value encountered in
/var/www/clients/client84/web167/web/wp-content/plugins/new-royalslider/classes/rsgenerator/NewRoyalSliderGenerator.php
on line
339
Warning
: A non-numeric value encountered in
/var/www/clients/client84/web167/web/wp-content/plugins/new-royalslider/classes/rsgenerator/NewRoyalSliderGenerator.php
on line
339
Warning
: A non-numeric value encountered in
/var/www/clients/client84/web167/web/wp-content/plugins/new-royalslider/classes/rsgenerator/NewRoyalSliderGenerator.php
on line
339
Yeguada Herederos Baones González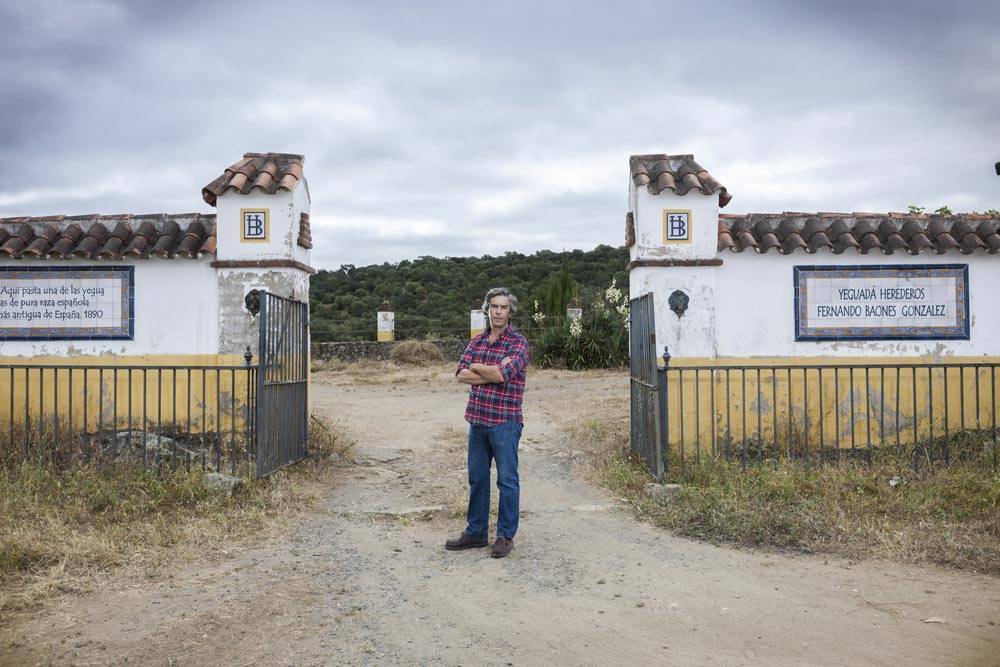 FOCUS ON THE STORY
The stable dates back to the half of the XIX century, founded in 1890 by a doctor of the army, Don Fernando Baones Martin, married to Dona Emilia Bolaños Romero, native of Almonaster la Real (Huelva). In the first half of the XX century, the founder's heirs, Misael and Fernando, are the owners of some horses who made history of PRE, like Bilbaino II and Lebrero, whom they coupled at home to some brood mares bought in the farms Bocado and Miura. In 1972 the stable becomes property of the grandchildren Fernando and Misael until 1996, when they decide to divide.
LOCATION
The original installations, by this time in a critical state after the death of Misael in 2012, are situated in the Natural Park of the Sierra de Aracena and Picos de Aroche, in the north of the province of Huelva.
For those who have visited Cuba the connection is direct to the descriptive term "charming decadence".
Everything is derelict, it's as if the buildings stand because there is no wind and if there was a gust of wind it would blow everything away. This farm is a little Havana in the middle of the mountains. No painter has passed here for decades, yet the charm remains unchanged.
Fighting to enter through all the weeds to reach the old farm and discovering the name plates of several famous horses that made history of PRE, gives a sense of high respect.
Mr Juan Manuel Maya joins us and it's as though he is part of the inventory, portrayed in front of the fireplace like a talking antique. He is a friendly gentleman who has a lot of knowledge about the family's history. He is one of those people from long ago, when the world spun slowly in traditional fashion, who gives the sense of trust.
BAONES HERITAGE
We can say without being too denied that this breeding farm, as others of the same prestige or superior, has greatly influenced the Spanish Yeguada Militar. Here lived beautiful stallions of an exceptional mobility. The most structured of all stallions was probably Bilbaíno II, a horse that transmitted genetic excellence for decades. Today Mr Juan Manual Maya manages what remains of the breeding farm.