At first it was difficult for my boss to understand my reasons for leaving, but then after telling him about our plan to change our lives he was very understanding and helped me leave in the best way possible.
by Roberto Benzi
We just left the Alps and our plane begins to descend towards Bordeaux, a vast plain of vineyards replaces the view of mountains and the earth has become a lot of small rectangles in various shades of green.
Daniel playing taxi driver holds up a sign with my name written on it in big capital letters and smiles. I know twenty-two words in French, he knows only seven in English. He asks me if I've ever tried leeches, and says they are exceptional and happily laughs at my confused expression, did I understand correctly? The language of hand gestures fills the fifty kilometers that separate us from the Castle. The powerful car quietly pulls into the courtyard of white pebbles, where Isabelle Jehanno greets me as a friend. In front of the Castle the Dordogne River flows placidly loaded with clay and a little further upstream Mount Bergerac, the Village of Cyrano. I feel I have been thrown into an ancient world made of smiles and handshakes, silence and work, hard work. My room at the Courtebotte Castle is called "Concert" it is forty-five square meters dominated by a large stone fireplace, a high window close to the ceiling and a canopy bed. I wash away the weariness of travel and think, "In a carriage or by horseback that trip would have taken a month from Italy, allowing predators…" Time passes and someone calls from downstairs for lunch, it's almost two o'clock in the afternoon and it is very hot. A couple of friends coming from Paris sit at our table, and with Isabelle is little Margot and the inseparable cat. We chat for a little bit, and already there is a closeness between us; the French cuisine, the fine bottle of wine from Bordeaux and the naturalness of the diners put me completely at ease. It is over her coffee that Isabelle begins to tell her story:
"I lived in Paris and worked many years in an International Transport Company, Alstom; working twelve, thirteen hour days, I was ambitious and completely dedicated to work. My days passed quickly, I went to the office early in the morning and came back home late at night, and I was asked to work more and more. One day I happened to be buying cosmetics in a beauty salon in Paris when I won a prize: a weekend trip to the area including the Courtebotte Castle.We came one winter day my husband and I, and met the owner who was nearing retirement and wanted to sell the castle and business. And so began our great adventure."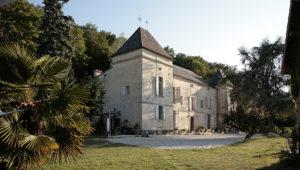 ws How much did the Castle cost?
ij The castle, which was already an accommodation facility, cost 1,100,000 euros, then we spent another 500,000 in renovations and new furniture. Currently we are refitting other areas in order to expand and make the space more comfortable.
ws That is a substantial figure, did you have enough money or did you apply for a loan?
ij We are not rich, we asked for a bank loan. First we designed and implemented the planning of actual expenses and revenues of the Guest House Project, considering the sale of our house, then we looked for a bank that would finance us. It wasn't easy, the first two banks denied us loans taking a few months to respond to us, the third, Credit Agricole in Libourne, believed in our project and lent us the money. Within a week we sold our house and moved to the Castle.
ws What made you change your life?
ij First I needed to spend more time with my children and with my husband; I wanted to have a job that would let me, that understood family time. In addition my life in Paris was becoming too stressful and I was looking for a new rhythm for a healthier life.
ws How old were you when you made this decision?
ij 44
ws What were the reactions of your children, your family members and your friends?
ij Valentine and Margot, my two younger children were willing, Clement, the oldest who was studying at University, said we were crazy. My parents supported me, understanding my current needs and desires. There was no problem with my friends, friendship is not afraid of distance, and they come and visit frequently and spend wonderful days with our children.
ws Did you have any experience running a hotel, restaurant or anything like that?
ij No, not at all. I worked in other things.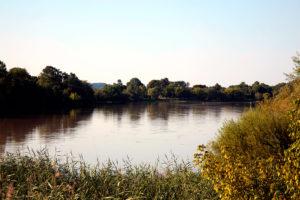 ws What types of clients do you have and what services do you offer?
ij Most of our guests are foreign, I would say 70% English, German, Swiss, Australian, Russian, some Americans, and the rest are French. The Castle is a Guest House, there is a large private park and a pool, the target is high, we offer quality service in a family environment in which our clients feel at home. We can arrange cultural and/or gastronomical excursions, we also offer dinner by reservation and can accommodate families and groups for longer stays.
ws What kinds of communication/marketing do you use to spread the word about your business throughout the world?
ij We are active on the web with our site and we're in the "Châteaux & Hôtel Collection" guide. We also have an excellent relationship with the Tourism Office in St. Emilion, which is a few kilometers from here and is a renowned tourist destination.

ws You opened about a year ago, how is everything going?
ij I would say well, we have lots of guests, who are a lot of work, but I'm happy and enjoy being with my family.

ws In the castle, can you expect to find a ghost…?
ij (Smiling) I don't think so, I've never seen one. The Castle was built by Henry IV, and little is known about it. I know it has had many owners through the centuries but not ghost stories. The strangest thing I heard was last year when an elderly woman passing by here stopped and told me that the castle had belonged to her ancestors.

ws Do you feel like you made the right choice? Are you happy?
ij Yes, I am happy. I work quietly and spend my days with my family. As you can feel, the atmosphere here is quiet, dominated by a sense of nature and beauty. My guests are happy, and my happiness comes from their joy.
"A partnership that has become a friendship"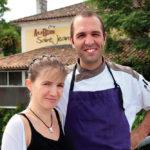 Thomas and Manuela opened their restaurant in 2010. They were also "fleeing" from Paris in search of a healthier life made up of a more natural rhythm and cost. They came around the same time that Isabelle and Pascal moved to the Courtebotte Castle. Thomas already had a lot of experience [working in restaurants] having worked in France, the UK, Australia, and in particular in Paris with chefs the likes of Thierry Marx, Eric Martin and Guy Frechon. The inn seats 25 people, offers fine and genuine cuisine, the style is very elegant and the prices are affordable for everyone. The best dishes are pigeon and their desserts and the wines are all French mainly from the Bordeaux region. The restaurant is minutes from the Courtebotte Castle and Isabelle and Thomas work together in a partnership that has become a friendship.


"I realized my own dream in my city"
Claudio Bergonzi is 54 years old, 30 of which spent in the graphic design, communication and education industry at one of the best Institutes in Milan, and is now the owner of the B-Well Fitness center.
ws Claudio, what were the main reasons for this change of path?
cb I lost my motivation in my old job. I have always had a passion for fitness and sports in general despite having gone through a series of injuries during karate, football and other sports. After every accident I wanted to be back in shape in order to start exercising again. I slowly developed a deep interest in rehabilitation and I would go to seminars, do internships and study the human body, the muscle groups and functions, by myself. So I got a degree as a Fitness Trainer and I specialized as a Personal Trainer.
ws So, we could say that sport injuries were an engine that pushed you to this new activity?
cb Within a year I closed my studio, found 2 partners and an appropriate location and we opened "B-Well".

ws What was the investment involved in this?
cb
For the gym equipment we invested 35,000 Euro, whereas the osteopathy, physiotherapy and Tecar therapy studios cost us 40,000 Euro.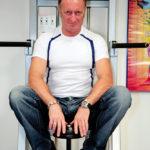 [W     alstom.com     auberge-saint-jean.fr     b-well.it     chateaudecourtebotte.com]
Published in the hard-copy of Work Style Magazine, Winter 2011