Ganadería Hermanos Camacho Benítez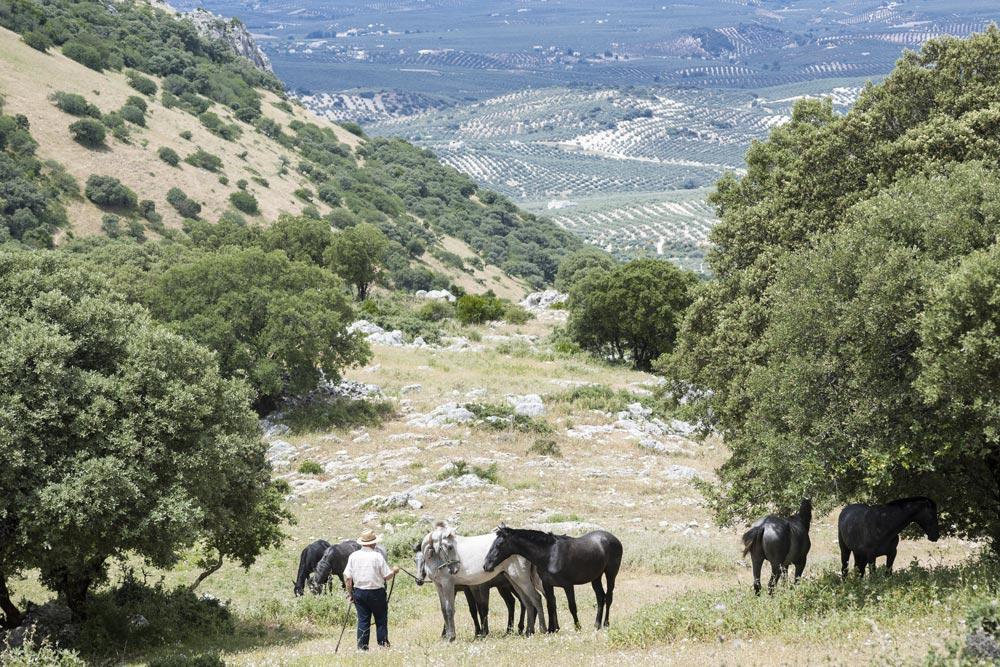 THE PLACE 
Mr Rafael Camacho seems a pharmacist. He gave us clear instructions and we reached the breeding farm situated in Cabra without any doubts. Do you remember the tv series "Little house on the prairie"? The surroundings of this breeding farm are similar, and reaching it is an adventure. The finca "Cueva de la Torca" dates back to the beginning of last century. This company, situated in the Natural Park of the Sierra Subbetica, in the south of the province of Cordoba, is at an average height of 1000 metres above sea level, on calcareous soils with steep slopes. Here horses can jump every day, and that's what gives them the distinguishing characteristics.
THE CURRENT BREEDING FARM
In 1972 they change the orientation towards the horse breeding of Spanish thoroughbred horses. Rafael's aim doesn't change: strong horses with temper and functionality. The results arrive: in '91 and '92 Dafne and Danica are champions of SICAB functionality.
At the moment four horses from the breeding farm compete in international dressage contests at Grand Prix level. Among them, Gnidium has been twice champion of Spain Dressage and entered the world championship that took place in 2010 in Kentucky.
RAFAEL IN GOOD COMPANY
Rafael's sister, Inés, followed us with grace and kindness for all the visit. Mieke, who manages the breeding farm, is a tall and robust, fascinating and talented girl. Mieke hesitates but then she tells us her story. It seems that when she was young she left Malaga on a horse to go to Sweden. After some kilometers she meets Rafael and when she goes back to her hometown she remembers him. Maybe disappointed by the climate there, she doesn't hesitate to go back to Andalucia to work with Rafael's horses, meet her husband and start a family. Not a bad trip!