From a small Connecticut PR agency to international success 
Some of Jennifer favorite mantras include, "You cannot dwell, you must solve." She is relentlessly optimistic and facts show that. Jennifer is the founder and CEO of CJP Communications, an international public relations and financial communications consultancy with offices in New York, Connecticut and London. She joined the firm's precursor, Jacobs Associates after college, became a partner at 25 and ultimately became the sole owner, growing the firm from a tiny Connecticut-based PR agency to an international firm with 60 employees. Jennifer Grew up in Easton, CT, attended Miami University of Ohio and Columbia Business School where she received her MBA. She is a frequent lecturer at leading business schools, including Columbia, and entrepreneurial and business groups. Recent speaking engagements include the Yale Chief Executive Leadership Institute, Forté Foundation, The Royal Bank of Scotland Marketing Summit and British-American Business, Inc. Her company was named an Inc. 5000 Fastest-Growing company, has been recognized as one of the "Top Places to Work in PR" by PR News, and was named "Small Agency of the Year" by The Holmes Report. Prosek was a finalist for the 2010 Ernst & Young Entrepreneur of the Year award. The birth of her daughter in 2007 made her understand that a business woman can also have a private live if supported by a team of talented employees, as she has. Prosek built the firm using a management strategy she developed called an "Army of Entrepreneurs." The "Army" model is the subject of her first book, Army of Entrepreneurs™: Create an Engaged and Empowered Workforce for Exceptional Business Growth", which was published in February 2011. She is also on the board of directors of the New York City Partnership for the Homeless.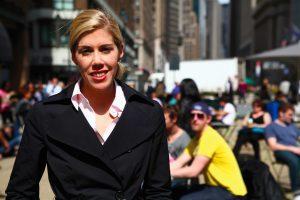 FIRST PUBLICATION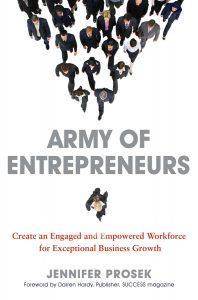 Army of Entrepreneurs
Create an Engaged and Empowered Workforce for Exceptional Business Growth
The book offers a timely and tested action plan. Step-by-step, Prosek shows how to recruit, train, motivate, and deploy staff members at all levels to be entrepreneurial in their existing positions. Every step features anecdotes and case studies illustrating how the AOE model works in real-world business situations, plus research and insight from experts in the business community.
[W     prosek.com]
Published in the hard-copy of Work Style Magazine, Spring 2011