Two key factors that support the work environment in Belgium are job ethics and a great educational system, with a particular emphasis on multiculturalism.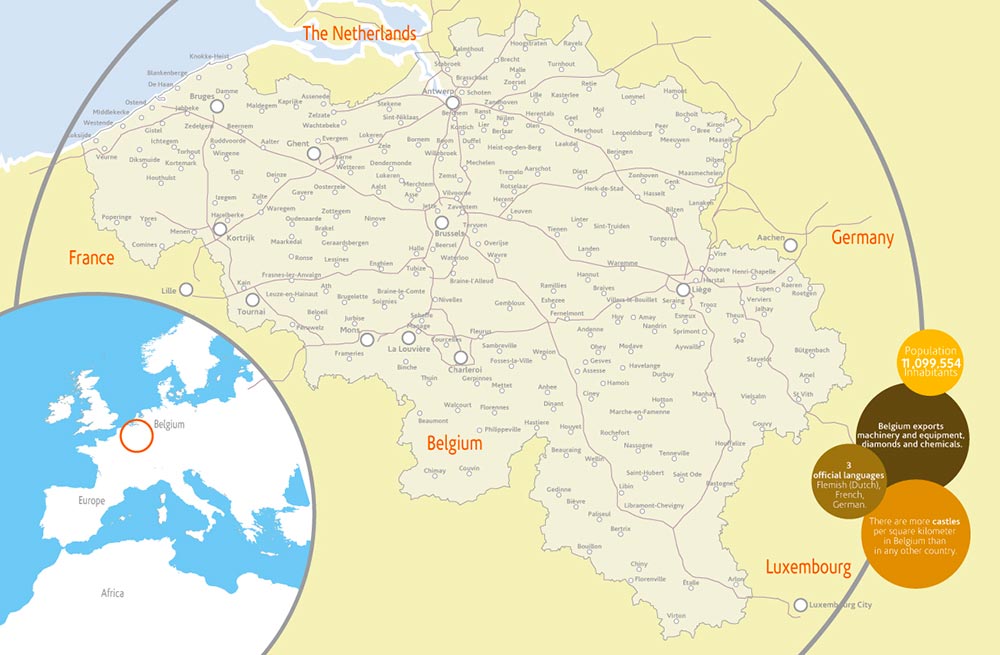 Low houses, gardens never too big, well groomed, the feeling of order together with the "countryside life" you would expect from a quiet country like Belgium, particularly once you come out from the urban conglomerate of Brussels and Antwerp. But so far this isn't news; it's just cliché…The discovery lies in meeting people who, from the inside of firms, transmit the energy of a community even too humble − according to the citizens themselves, professionals, business people… the surprise is discovering that the Belgians don't take themselves seriously, but are committed to work with great pragmatism and a sense of duty, going step by step towards an intense, strong innovation that is anchored to the practical sense of doing things well that everyone recognizes in a good artisan. The gratitude for hosting European institutions (and the widespread prosperity that comes from this) is often accompanied by a sense of distance that is very marked, very similar to that which is breathed across the whole EU, especially when younger people get close to them. In conversation the "Europe subject" is actually dismissed with great speed. It's not an "issue" exactly, as it is not as serious as the tensions between the Flemish and Walloon people over the "national issue". 
INNOVATION AT FIRST
"Anticipating and focusing on innovation": the motto of the Elia group seems to fit several companies based in Belgium looking for a "European vision" that could work as a key to enter the new millennium. A master key to live in the new time of globalization able to pierce through bones and marrow, with its conveniences and ever-present and pervasive standards of comfort, so strong as to dictate increasingly often the guidelines for the "newcomers" in the job market. People immediately begin looking for a balance between work and private life, with the scale leaning towards this last one relentlessly…It makes no sense to proceed with a linear tale to try to explain what kind of workplace Belgium is nowadays, but it's more effective to go ahead with "hashtag", useful to fix some coordinates to follow the thread of narration that focuses on this country, so close and at the same time so unknown. "Evolving" is the first word, precisely in the dynamic sense expressed by the gerundive. In the company that is the symbol of the Belgian electricity system, you can breathe a positive atmosphere, an intangible perception of progress, of a community that moves forward. But not only that. To satisfy citizens' expectations, which are getting higher and higher, explains Wim Strickx, HR manager of Elia Group. "Flexibility" is another keyword, a benefit often requested by employees and a good practice of many companies, a way of organizing business that works particularly well for Elia.  Thanks to a partnership with an NGO as part of the company's CSR activity, employees will meet street children in Romania for a project called Mobile School. "We' ll go there in teams of 12. At first it will be a shock because managers think they're going to do something and then are struck by a completely different situation as they'll find themselves having to learn from the beginning, from basic values, standing in front of these boys." According to Wim, this project helps because living on the street instills in people a very concrete approach where finding an immediate solution is a must.
______________________________________________
______________________________________________
The project is also developing in Latin America and, as Wim claims, "It's not a joke, it requires a lot of motivation – the first quality we want to see in our managers." In a social climate marked by the crisis, motivation is one of the most valuable currencies, because it's not easy to face customers and public opinion much disposed to saying "no", whether it's a case of high-tension electric cable passing close to one's home or windmill blades to be installed some kilometers from the shore. "It's a contest influenced by a lack of inclination to say thank you, to pause on the well-done things, on the positive results, too easilily taken for granted, because it is easier to notice the errors," – a little bit also because in this field the margin of error is often evaluated in human lives. "But, in this way," notes Wim, with a smirk on his face that leaves you in no doubt, "you risk not seeing a lot of work that is done well. The necessary approach we are looking for in our managers should arise spontaneously from the leader without the need to explain to them that they should appreciate their collaborators and workers more."  In Kontich, about halfway between Brussels and Antwerp, in an ordinary row of houses with visible brickwork and sharp roofs, you can breathe the air of a place in which you could easily disappear from the world, even while remaining in conditions that are totally "civilized". Another discovery, a "microcosm" to look at with attention – like all the realities that in controlled dimensions include a certain quality that it is necessary to pay attention to. Realities that, once you look closely, demonstrate all their "normal exceptional nature" in the perfect operation of their gears. A financial consultants' life asks by its nature, flexibility: is there something more obvious and expected…?
PRIVATE AND WORKING LIFE: THE PERFECT TRADE-OFF
At Handson & Partners the trade-off between personal life and working life is a cornerstone in the organization of resources: from home training and trying to locate projects as close as possible to the consultants' homes to an intensive use of the most technological solutions (read mobile computing) in order to develop the most effective teleworking formulas. Everything is done to look at the job "in a very human way". At the top of the list of the characteristics which distinguish this young company is the absolute desire to share knowledge and experience as well as mentality. 
______________________________________________
______________________________________________
This is made simple by training and by creating occasions every month for getting together and sharing time in informal settings such as sport, events, parties… what the technicians call "team bulding". Here you get the feeling that it looks more like the "conviviality" of an informal structure with honest relationships, and for this reason it is strong. Then every four years there is a "moment of truth" that in a fully transparent way makes it clear to everyone the state of projects, of customers, of instruments and so on… offering a panoramic view of "where the company is going": an effective and immediate way to relaunch personal responsibility in conducting projects as well as to open a discussion on the issues that lie at the heart of the problems that an employee may have. Second on the list is the need for professional training, internal and external, to be up to date. "Hands on" doesn't refer to the founder's name, but the proper idea of putting a finger in every pie.  It's not by chance that in the selection of new employees equal weight is given to a person's background, their technical skills and their personal attributes. It is important that they are dynamic, flexible and have good communication skills − fundamental "soft skills" needed to deal with customers. "In my job," explains Veerle Geysen, HR manager, Handson & Partners, "There is a strong psychological component evaluating attitude, the 'sentiment' our consultants have when they work." Third on the list – and it seems to be a credit order, not a fortuitous placement – comes remuneration made up of a significant package including salary and benefits. Traveling along Belgian streets, it becomes clear how the economic aspect has got its weight, not secondary of course, but not so decisive. This is reminiscent of the ongoing experiment by Rudiger Fox to apply the concept of "Gross National Happiness" to companies.
IN THE NAME OF HAPPINESS
The lively energy of the light reflects on the white walls spread out in a space that matches the name of the agency in it: "Happiness", a program of life and work firstly, then the name of one of the most interesting communication agencies in Belgium. "It's much more than a promise," explains, Karen Corrigan, energetic and brilliant CEO. The comfortable lemon-yellow sofa and the even more inviting massage sessions that the agency offers for free once a month to all its employees (who are in fact taking turns on the table during the whole conversation with TWSM) are all there as proof of the sacrosanct principle that happy people do great work. Here is the flip side of the equation: doing great work makes people happy. Boys' and girls' faces (average age between 20 and 25, the creative director is 31) speak for themselves. "People love staying in a place warmed up by light, well lit, where they can feel at home… Indeed, here the familiar form is reproduced by different generations, between most 'paternal' and 'maternal' figures and others more 'filial', in a reciprocal relationship of giving and having." Happiness is a house open to the world. The different cultures, races and countries of origin − Scotland, Holland, Israel, Ukraine and Belgium − blend together to produce a cocktail of an original flavor. "A Belgian company 360 degrees, stressing the best example of a country that is the permanent host to more than a million foreigners and where it's calculated that 1 in 5 of its inhabitants has no Belgian origins." And Brussels can make claim to be at the heart of Europe, the crossroads to absorb suggestions, provocations and materials from many different sources, "A perfect space for this kind of vocation." Happiness' vocation is to comprehensively explore the field of communications, transforming research into new business models in a venture called "PRD", that is to say "Prototype Research Development." It's the method that permits a completed,  integrated cycle of communication, from ideation to modernization.
______________________________________________
______________________________________________
Dynamics that produce, for instance, an app through which a photo of a dish taken with a smartphone can calculate the cost of a meal and hand over the equivalent amount as a donation to an NGO that is fighting against hunger. Instead of using devices and digital sensors to transfer directly the moods and perceptions of a tree (right, of a tree) on social networks, letting everyone know how people are feeling is like listening to what a "talking tree" has to say in the park next to the office. "We have ideas, we know companies and their needs, we know how to realize the ideas, we know how to test them, then why don't use these talents to value the whole cycle?" "One should use everything," laughed an amused Karen, "from the B52 to an AK47…" Here they are then, the values of the agency gathered in its name: "H for Hungry, A for Agile, P for Positive and Professional, I for Innovative, N for Natural and Noble, E for Entertaining, S for Strong and Sexy." They are not always the same: values and thoughts are put to the test and redefined once a year when the agency goes in January to a "recreation park" and confronts itself with all the world to find the spirit of the moment. At that moment, it fixes a second group meeting after the Oscars of the advertising world in Cannes, "where we only go if we've won the gold award," explains Karen, not in a snobbish way but in the name of practicality, "because it must be worth it to go." In Cannes, the agency gathers itself on the basis of the projects that have been planned and the news gleaned from its competitors. It's like going back to square one… And to play, especially with words, people from Happiness seem never to have enough. In white spaces and gold where it overlaps with creative people, copywriters, graphic designers, wizards of technology and accounting, energy reverberates in ways that are always new: they call it "UPMS", Unidentified Perpetual Mutating Specimen. Once more "evolving and innovating".
A CULTURAL APPROACH
One undertaking by CTG is a plan that has got an extremely precise horizon: the job culture, the outcome of the investment on the equation "happy people produce greater results". Filip Gydé, senior vice president of the leading company in IT solutions for businesses, has 27 years of expertise in bringing to reality this certainty, working hard on the quality of the product starting from this "cultural" approach. "And you can't copy a culture, if you don't have it inside…" To give pratical and concrete meaning to this culture, CTG has identified 8 people who are in charge of taking care of the development of full time work in the best possible conditions. CTG – Connecting Through Giving: like the name the company has given itself, the keystone is "giving": take the initiative, offer time, space, energy and intelligence to a project, create a professional opportunity for a young person at the beginning of his or her career. "My open-door policy," explains Filip, "has a particular method for the newcomers: I personally take care of receiving each of them, and what's more before they start to work effectively with us (on average about 6 months earlier) I give them access to our platform to get used to the merits of its contents and our company's specificities." This style is developing over the course of time, "following the real needs of each one. Belgium has got lots of rules which mark the line between workers and companies, but there is an important space where we found the answers to the specific requests of every employee."
______________________________________________
______________________________________________
For some it means changing car because their family has grown, for others it means shortening the distance traveled to meet their customers, and for some others it means having the opportunity to have a break because of events in their personal life. "Everyone has got their own way, and we try to give people  maximum support. I, myself, 11 years ago,  have personally experienced this as I needed to reduce my hours spent at work when my wife got sick. It's a commitment that renews every year." Filip's observation sounds almost expected, but he adds, "because it's a long way to go through day by day, year after year, involving people, not the management to enter 'inside' our values, to make them experiment how and how much they can make a difference. For instance, when in 2009 we had a visible decrease in our ranking, we used the occasion to get together, as a team, so it allowed the employees to express themselves, to understand what needed to change, and to formulate an action plan. This permitted us in the following years to recover and improve. In the pauses in the discourse you can guess that Belgium doesn't keep pace with the changing rhythm produced by companies because," notes Filip "flexibility can reach a certain level." Two key factors that support the "Belgian work environment": job ethics and the education system, with a particular emphasis on multiculturalism, which it expresses particularly in fluency in different languages. "And this is another way 'to give', to your interlocutor, shortening distances."
EMPLOYEES-CENTERED PROGRAMS
The transition of Gouden Gids has been a epochal one: from the printed paper in the most analog meaning of the term (physically producing the agendas, reporting telephone numbers and addresses of citizens and companies) to an approach that is completely digital after the arrival of the Internet, which has completely modified manners, schedules and characteristics of research into people, shops and activities. A complete transformation to reach the same objective: to get to the customers in the best possible way. This transformation itself has meant creating 50 new positions and competences in the last 5 years, with an internal training offer always open and active. "We have started from the lowest point," says Niko Parmentier, HR manager at Gouden Gids, "Asking our 60 employees (half work in selling roles) to tell us their priorities. They have come up with 4:
• it starts with you
• quality is the key
• get out, get social
• future starts today."
______________________________________________
______________________________________________
To proceed from the lowest point means to listen and then listen again. A register that indeed shows itself in the familiarity of the relations in the workplace, resetting any obstruction from the CEO to all of the employees. To listen also means a "people session", where twice a year 8 employees are chosen at random and gathered together to discuss the state of the art with the CEO with total freedom to ask about any issue, to make proposals, to raise topics or to table suggestions, because enthusiasm and being willing matter more than diplomas and certificates. Unfortunately, once again there is a risk that the entrepreneurial spirit will not be adequately rewarded because, "If 9 in 10 cases are successful, the attention probably woud be paid to the one that struggled and didn't meet the required standards." In the meantime, new ways of thinking about work fight forward, moving in the direction of balancing time working and personal time better. "Regarding this, we are equipping ourselves with a series of 'anti-stress' programs, maybe made up of little things but those that have an influence on everyday life. From occasions to stay together in a social environment to nutrition advice on eating the most healthy diets." Belgian national legislation seems to be offering new opportunities to reprogram timetables and working schedules. So what's on the horizon for Gouden Gids: to stimulate training, aiming for e-learning and self-learning (leaving a wide margin of choice in the type of training preferred by employees) and an overall office reshaping to adapt the space to new criteria of flexibility, promoting active forms of collaboration and combining the employees according to departments and divisions of provenance – taking into consideration that workers come from 10 different nationalities: Canadians, English, Portuguese, South Africans, Brazilians and Dutch combine with Belgians. "Personal development" is one of the cornerstones at Decathlon, which gives its employees ultimate freedom in how any position inside the company functions, in a way that allows the greatest possible flexibility in addition to being the responsibility of all. Overall well-being is furthermore the beacon of a company that specializes in all that revolves around sport and leisure, because the objective is helping to build "self-confidence", giving all employees all the means and the opportunity to practise well-being. The perfect representative of the athletic spirit that permeates the company, Carole Jenssens speaks more like a "coach", a personal trainer, rather than an HR manager. "We have a monthly meeting to open a discussion among employees and managers," the expression of a totally horizontal approach which supports and encourages the concreteness of Belgian people. "We encourage the 'doers', we believe in the culture of action and for this reason we try to make the development of ideas and new projects as easy as possible."
______________________________________________
______________________________________________
United by the inclination not to take oneself too seriously – and to be able to enjoy themselves – the method clearly gives results, considering the employment plan in full expansion, with 100 open positions in a development plan that by 2020 aims at doubling the company's presence in Belgium! 
[W   handsonpartners.be    ctg.com    decathlon.be    elia.be    goudengids.be   happiness-brussels.com]   
Published in the hard-copy of Work Style Magazine, Spring 2014