Times are tough in California – new gadgets are still delighting customers, Yosemite is still beautiful and Hollywood is still filling theaters, but the state is facing major economic difficulties.
California isn't alone – in the wake of the worst economic crisis since the Great Depression, the US economy is reeling from a broken banking system, huge numbers of foreclosed homes and too many lost jobs. Soaring debt, trade deficits and an unstable stock market are leading many to doubt the dollar and invest in gold, to the point where even the site of the Gold Rush is having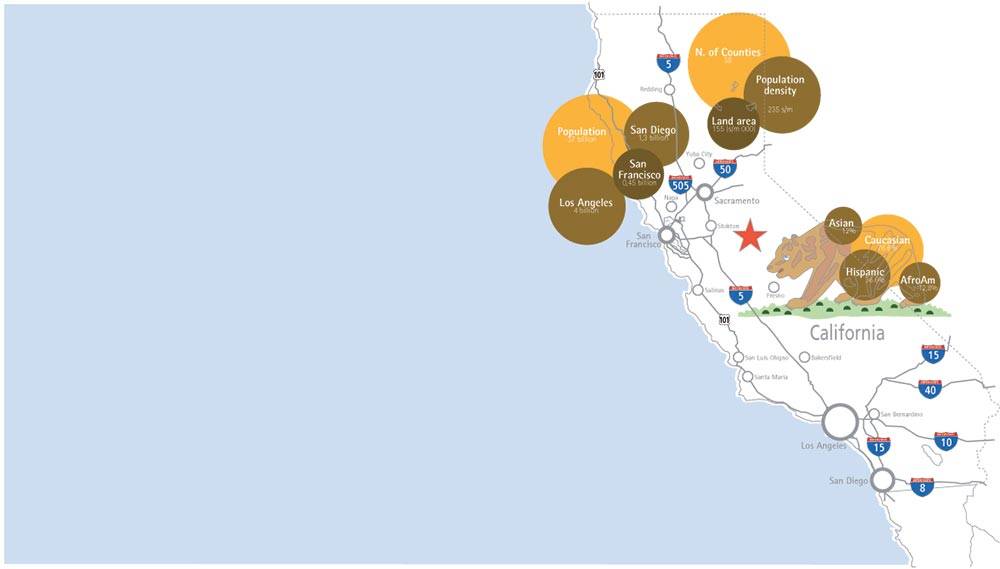 trouble withstanding all the upset. Home to about 36 million people, the Golden State's unemployment rate rose from 10.6 percent to 12.6 percent over the last year, with the loss of 458,600 jobs, according to the Bureau of Labor Statistics. With the state's budget in crisis and the governor hunting for money to make ends meet, many key services have been placed on the chopping block. Government employees have shorter workweeks and children are spending fewer days in school. In early May 2010 Governor Schwarzenegger called for budget reductions totaling US$12.4 billion that include cutbacks in financial assistance for families in need, childcare, and mental health services, according to the New York Times. Revenue collection is the complementary concern – the state is already increasing fees for parking and traffic violations, leading to wide discontent. As the situation goes from bad to worse, Californians are stressed out and want the good times back again.
SILICON VALLEY
Historically one of the country's most important sources of innovation, Silicon Valley is also feeling the effects of the recession. "Silicon Valley is feeling a lot of pain," says Russell Hancock, chief executive of Joint Venture: Silicon Valley Network. "We're undergoing some pretty painful transitions." The area lost about 90,000 jobs from 2008 to 2009, returning to the number of employed residents it had in 2005, according to the '2010 Index of Silicon Valley' report, created by the Silicon Valley Network and the Silicon Valley Community Foundation. Several key indicators for the region's success are slowing, includine venture capital funding and patent registration.  Silicon Valley's unemployment rate is 11.5 percent, below California's rate of 12.6 percent but above the national rate of 9.9 percent. The region's average annual salary of $75,390 is significantly higher than the statewide median household income of $49,894, but the cost of living matches these higher earnings. Rents and home prices remain high by national standards – a one-bedroom apartment rental in the Bay Area can cost about $1800 per month. Home purchase prices are also high for these incomes – as of March 2010 the average single-family home in Santa Clara county was valued at $700,329, compared with the state average of $407,235, according to the RAND California database.  The number of patent registrations from Silicon Valley went down slightly (less than one percent) in 2008, compared to a decline in US patents of 2.6 percent. Still, Silicon Valley accounted for nearly half of the country's patent registration in 2008, with six of the twelve top registering cities in the US. Venture capitalists are hesitant to invest following a decade in which the firms would have made more money by investing  in the S&P 500. There was a 37 percent slowdown of venture capital funding in clean technology from after a spike in the area in 2008, according to the report. But this could still be the area that brings Silicon Valley back to life.
FOREIGN TALENG DWINDLING
California has long relied on foreign talent, which makes up 60 percent of Silicon Valley's scientists and engineers. But the area is increasingly failing to lure these skilled international workers to its companies. Total foreign immigration to the region was down by 34 percent between 2008 and 2009. The US is less hospitable than in the past, the cost of living is high, and workers' home countries are offering more attractive opportunities. While total immigration numbers dwindle, talent from India, China and Korea is growing in importance as a percentage of total workers. Indians made up 20 percent of Silicon Valley's scientists and engineers in 2000, and by 2008 had risen to 28 percent. India's relationship with Silicon Valley is one of both collaboration and competition, Hancock says, with Bangalore becoming a point of focus for entrepreneurs, but some suspect that it would be hard to replicate the breadth and depth of expertise present in Silicon Valley.
GREEN TECH
But parts of Silicon Valley are on the upswing – since 2002, the fields that have experienced the most growth are industry and energy, media and entertainment, biotechnology and medical devices. One notable area of hope for the future is green technology, which could lead the way out of the area's current slump. Since 1995, businesses that help preserve resources, provide alternative fuel sources and minimize pollution have increased by 50 percent, with an expansion of eight percent between 2007 and 2008, the Joint Venture report says. There was an increase in jobs in the green sector of 24 percent from 2004 to 2008 – this area includes business services, agriculture, research and advocacy, transportation, recycling and waste, energy efficiency and green building, among many other areas that work toward a sustainable society. But more significant job creation could take time. "You're not going to see prodigious job growth in Silicon Valley, you're going to see steady, incremental growth," Hancock says. Silicon Valley's fortune-making machine has been based on computers, microprocessing, and software. In the case of software, developers could work cheaply on their own, then watch the money pour in. But future innovation, if it moves toward clean-tech, is going to be slower and more expensive. This means that entrepreneurs will be less independent than they used to be, as venture capital wanes and self-funding becomes nearly impossible, and reliance on Federal funding increases. Some new areas of strength are likely to be in battery technology, a smart grid, alternative fuels and renewable energy. But Silicon Valley didn't fare as well as hoped in receiving Federal stimulus dollars. The area receives only about one percent of the nation's total federal R&D funding (Washington, DC receives 13 percent) and is seeing less of this funding stream over time. Another strong area of Silicon Valley is the biotech sector. Like clean tech, biotech developments are often long-term, as the Food and Drug Administration approval process can take a decade. Still, Silicon Valley is ripe for biotech because of its potential for synergy with different disciplines.
AGRICULTURE
Another strength of the Golden State is its prodigious agricultural output. California produces about half of the country's fruit, nuts and vegetables, with $36.2 billion of output from 81,500 farms and ranches in 2008, according to the California Department of Food and Agriculture. But the state's agricultural sector is facing major challenges. Water shortages are causing a strident debate in which farmers, residential water users and environmentalists are competine for the same resource. Water availability became a huge problem in recent years as water from the Sacramento-San Joaquin River Delta was limited for agricultural use because of an endangered species of fish, the delta smelt. These difficulties have encouraged farmers to explore ways to use less water and conserve what they have. Practices like unlimited groundwater extraction have been curtailed, and changes the in the US Farm Bill are encouraging farmers to use their land for multiple purposes, like wildlife habitat, groundwater recharge and crop production, simultaneously. Crop selection is another opportunity to save water. Rice and cotton use more water than orchards and vineyards, for example, and some crops have been genetically altered to use less water. Most of the field labor in California is done by Mexican migrant laborers working for minimal pay, a large percentage of whom are thought to be in the country illegally. According to a 2004 report by the Oakland, California-based Food First Institute for Food Development and Policy, there were then roughly two million farm workers in the US, including about 100,000 children. About two-thirds of them are from outside the US, most commonly from Mexico, and most of these workers earned less than $10,000 a year, the report says. Immigration has long been an issue for farmers, who rely heavily on migrant labor. But times are changing – in 2007 the New York Times reported that US farmers were increasingly renting land in Mexico as an alternative to facing immigration issues for foreign workers in the US.
HOLLYWOOD
Another major California industry is entertainment, which is mainly centered in Hollywood. The film and television industry generates about US$80 billion per year, US$13 billion of which go to Federal and state taxes. It is the only US industry to run a positive trade balance in every country in which it does business, according to the Screen Actors Guild. The US entertainment industry includes some 2.5 million people including actors, makeup artists, stuntmen and many others. It's a young crowd, with 54 percent of workers under 34 years old. Many people are employed on a contract basis, which is known to be very competitive and a difficult way to earn a living. Most people in the motion picture and video industries earn modest, middle-class salaries. In 2008 the median hourly wage for producers and directors was $41.32, film and video editors earned $27, and ushers and ticket takers earned $7.87 per hour. While some actors earn millions per film, the minimum daily rate for actors who are members of the Screen Actors Guild is $782, or $2,713 for a five-day week, based on a union contract negotiated in 2009.
CONCLUSION
Hollywood's continuing success is encouraging, but it remains to be seen if other parts of California's economy will emerge from the recession in good shape. Silicon Valley has taken a major hit and faces international competition, but many believe that its combination of computing, biotech, and major universities would be nearly impossible to replicate and will retain lasting value. California's agricultural sector continues to be the country's largest source of produce, and water concerns can be addressed with better irrigation technology and techniques as environmental, urban and agricultural water users negotiate to meet their needs. But most importantly, California has seen recessions in the past. It has shown the resiliency and the energy to rebound according to the industrial and technological requirements of the future and remain competitive on both the national and global levels.
California history in pills
• The name "California" came from a knightly romance book that was published in 1510. It was about an island paradise near the Indies where beautiful Queen Califia ruled over a country of beautiful black Amazons with lots of pearls and gold. Men were only allowed there one day a year to help perpetuate the race.  • The first settlers to arrive in California after the Native Americans were Spanish, and later Mexican. Russia had some small settlements for the purpose of whaling and fur trapping in Northern California, but Russia didn't attempt to colonize the area except in very isolated areas. • The fight for California began almost 500 years ago with Queen Elizabeth I. She sent Sir Francis Drake to harass and raid the Spanish galleons.  • 200 years after the superpowers of Spain and England, Spain decided to send priests in significant numbers in order to start missions. The effect that the missions had on the native population was enormous. Many traditions were abandoned or forbidden.  • In addition to starting the missions to gain settlers, the Spanish King, and later the Mexican government, gave people land grants to start ranchos and encourage settlers.  • By the mid nineteenth century, California had come from obscurity to statehood because of the Gold Rush which started in earnest in 1849 • On September 9, 1850, President Fillmore officially made California the thirty-first state. • One thing that helped ease California's isolation was the telegraph. By 1861, telegraph lines stretched across the country. • In 1862 the Pacific Railway Act authorized the building of the Transcontinental Railroad. • Prosperity and rapid population growth continued after the war. Many African Americans who came during World War II to work in the war industries settled in California.  • From the end of World War II through the mid-'90s alone, 5 of the 7 governors were Republicans. • During the 1970s and 80s California continued to grow rapidly, with a major shift of population to the state's interior. • In Oct., 1989, a major earthquake killed about 60 people and injured thousands in Santa Cruz and the San Francisco Bay area. • In a backlash against illegal immigration, California voters in 1994 approved Proposition 187, an initiative barring the state from providing most services—including welfare, education, and nonemergency medical care—to illegal immigrants. • In late 2000, California began experiencing an electricity crisis.
People from the West Coast: Work, Dreams and Passions.
John Medlin Founder and president of Tetrahedron Investment


A Registered Investment Adviser, John Medlin is the founder/president of Tetrahedron Investment Management. From John's point of view the current economic situation in CA is weak with few signs of significant improvement in jobs or real estate prices. John states "

For the remainder of 2010, I believe we will see a repeat of the State Government issuing (IOU's) to employees and vendors". With a 12.6% rate of unemployment statewide, there will be continued layoffs of jobs in government and education as the State struggles to finance its multi-Billion $ deficits.
Leslie Conliffe Managing Director Intellectual Property Group


IPG represents writers, directors, and authors in film and television industry.  Leslie's clients include talents such as Paul Haggis (Million Dollar Baby), and James Ellroy (LA Confidential). "

In talent representation, seeing a client's success after having worked and supported their talent and efforts is the greatest reward", says Leslie.  With the current economic situation, studios are producing and releasing less films and television shows.  They seek to pay talent less money than they were making a year ago. "The amount of work is the same.  The effort to get clients work is the same.  We are all just doing it for less money!

" affirms Leslie.

Elizabeth Goel Owner of Bite Catering Couture


Elizabeth graduated from The French Culinary Institute of New York. In 2006 she founded Bite Catering Couture, which provides amazing food and excellent service in the Los Angeles area.   Bite Catering Couture clients are people or corporations planning any type of event. The Company's specialty is small, bite sized food. "

Everything is made from scratch using high quality and seasonal ingredients.  Taste and presentation are equally important", says Elisabeth. For her the biggest satisfaction is "the camaraderie of the Bite team and the pleasure and satisfaction we take in working with one another".

Alexia Vassiliou Singer. She has over 18 albums in Greece. She has collaborated with Milva the Swiss harpist A. Vollenweider, C. Corea and B. Rothschild. "The greatest satisfaction came when I began to compose my own music and write my own lyrics and then having orchestras and musicians play this Music and me interpreting", she says. "Many singers, including me, have had the opportunity to do what they love best but instead of singing the music of our heart, we were often forced to sing songs that we did not like just because a 'record company' has forced-convinced us to", she adds.

Alexia Melocchi Producer and Partner of Little studio films
Alexia has a career spanning over 20 years in the international marketplace, as both a worldwide distribution film sales agent and as a Literary Agent. She's experienced in promoting talent across the globe, packaging films, securing co productions and arranging for US and International Distribution outlets. "I am able to recognize raw talent and see it before they see it in themselves", she says. Alexia is one of those people who has realized the American dream: "when I was 14 years old I used to watch "Dynasty" and "Happy Days' and I wanted two things: to live in America and work in the Film Business and to graduate in an American High School and go to Prom. I did all that and much more", she affirms.

John Giddins Realtor Sotheby's International Realty
John began his career in real estate in New York City where he was raised. Nevertheless he choose LA as the perfect milieu to practice his trade. One of his great joys when assisting clients is to help them find and live their dreams. "Understanding the needs and desires of buyers and sellers who place their trust in my hands offers a remarkable challenge and gratification", he states. Regarding the impact of the crisis on LA: "Sellers either still have equity in their properties or in some instances, those who bought at the height of the market now find themselves 'upside-down' and are forced to negotiate a 'short-sale' or face 'foreclosure'", he adds. The secret of John success is "always put the clients first".

Agostino Sciardi Restaurant owner. He graduated from the Hotel & catering school in Bellagio, Italy. Then he moved around Europe, while working in London, South of France and Italy. He came to America in 1985 as a chef at "Il Giardino". In 1989 he opened his first restaurant "Toscana". Today he is the owner of seven restaurants. In the United States, Italian food consistently increases 15-20% annually, in a town where trendy is the main focus, quality power doesn't come less. There has been an increase in Japanese cuisine. "Japanese food might receive very high ratings but Italian food remains the most popular and favored food among Americans" says Agostino.

Hal Adler President and Founder of Leadership Landing
Prior to founding Leadership LandingTM, Hal was President of Great Place to Work® Institute. Hal held leadership positions at The Center for Talent Retention, Manpower, and the Training Arts Institute – an organization that he founded. Before entering the field of management consulting, Hal worked as a restaurant owner, opera singer and orchestral conductor. For Hal, living and working in Northern California offers everything as the best of all worlds. "Open, forward thinking people, cutting edge, industry making businesses and some of the best weather (and hiking) in the country", he says.

Jason Peterson CEO of GoDigital Media Group
Jason was named as one of the 'Top 30 entrepreneurs under 30' in LA.  GoDigital represents over 900,000 music copyrights, including content from famous artists such as The Temptations, James Brown, and Akon as well as over 15,000 hours of movies & TV programming. Jason has produced music videos for Sony BMG, EMI, Universal, and Warner Bros among others.  The corner stone for his work is a license to practice law and a business degree with an emphasis in Cinema / TV "That background provides the ability to see and analyze the industry at a 30,000 foot strategic level, determine the playing field, and then execute tactically at ground level" he says.

Tiffany Brouwer Actress
Tiffany is a young actress with important experiences in series like "NCIS: Los Angeles", Fame,  Murphy's Lie, "CSI: Miami", etc. Along with this life style comes sacrifice. Everyday she cannot be close to her family and friends. "Having solid long lasting relationships in LA is very difficult, everyone is focused on themselves and are going in their own direction with a tunnel vision", she states.  At the age of 14 she left her family in North Carolina and moved to Los Angeles.  "It wasn't long after that I realized that it was going to take years of  determination to achieve my goals", she says.  Now she is 26 years old and she continues to follow her dream and waiting tables five nights a week. "For now it is flexible and it pays the bills and allow me to take auditions during the day", she says.

Lauren Ackerman Owner of Ackerman Family Vineyards
The Ackerman's have learned a lot about grape growing since they bought the property in 1994. In 2003, they produced their first commercial vintage. "Positioning our small winery business in a sea of more established and much larger brands has been both a blessing and a curse: a blessing because we are new and people enjoy discovering new brands; a curse because it is easy to get lost in the myriad of choices that consumers have when  purchasing a wine for the table" she states. "The advantage for a small family-run operation is the ability to be flexible from year to year in terms of our production and profits and lack of the huge overhead costs associated with a larger operation – something that has hurt several wineries during these past two years during difficult economic times", she states.
[W     ackermanfamilyvineyards.com     alexiamusic.com     bitecatering.net     bls.gov     cdfa.ca.gov     foodfirst.org     godigitalmg.com    leadershiplanding.com    littlestudiofilms.com     siliconvalleycf.org]
 Published in the hard-copy of Work Style Magazine, Summer 2010