A very thrilling profession for those who can't do without adventure and a bit of spice in life. But stunt performing is much more than tumbling on mud or kicking people around. It is a seriously difficult career mostly driven by passion.
by  Paola Bettinelli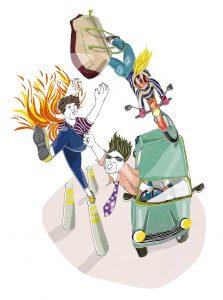 JUST A DAREDEVIL?
They are called stunt men, stunt persons, stunt actors or artists but a very general definition of a stunt perfomer has been summarized by Hassan Raghu from the India Academy: "someone who is involved in the performance of stunts for film and TV productions in front of the camera and also in front of the audience during stage performance for theatre, stage,drama productions often as a career and making a living from the earnings from it." Furthermore, depending on the country and the school, you can find a lot of different specializations according to their proficiency, expertise and seniority–Stunt Actor, Safety Consultant, Safety Supervisor, Stunt masters and coordinators to name a few. Since stunt performers work with calculated risks and different backgrounds – such as acrobatics, martial arts, elite atlethes and many more – the emphasis is firstly put on the physical characteristics. Consequently each of them should be very athletic with at least a basic knowledge of martial arts and of health and safety procedures: as the professional stuntwoman Sophia Crawford points out "we learn how to treat minor injuries at home efficiently." Still, Jacob Sebastian Malm – founder of STUNT360 and The European Stunt School – stresses that "Efficient and explosive strength is a vital part of being a stunt performer." But that is half of the story: along with technical skills stunt performers are supposed to develop excellent interpersonal and communication skills, an high level of concentration and planning abilities after reading the script for performing stunts. It is essential to acquire or improve patience and tolerance, willingness and determination and the ability to stay calm since most of the scenes are shot under much pressure. In other words, "stunt performers need to be mentally balanced, safety conscious, teamwork orientated and have common sense", as Colin Handley – principal of the Australian Stunt Academy – briefly sums up. But first and foremost Heather Arthur – professional stuntwoman – claims that "to be great you have to have the inner desire, you have to have heart".
STUNT SCHOOLS AND ACADEMIES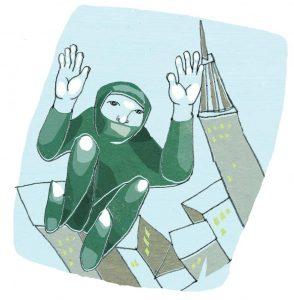 The motion picture and television industry is not suffering much from the world crisis and still is thriving, by expanding in other countries – let us think about India's well-known and long-established Bollywood – and by widening the number of action features, where stunt professionals are mostly required.  The number of schools and courses are increasing more and more, each of them providing some basics and then specializing in different expertise. The India Academy offers seven courses of variable duration – shifting from the basic course for lead actors that is six weeks long to the Stunt Artistic Course for beginners and the Traditional Martial Arts course for rural youth, both lasting one year. The Australian Stunt Academy offers three choices: a one-day introductory Stunt Workshop for those wanting to experience some of the most commonly required stunt skills.  This could include: tumbling, falls, fights, rapelling, swordplay, wirework, motorcycling and a short filmed action scene. There is then a 3 week full time course, which is the most popular course held three times a year, and it attracts people from all over the world who are serious about becoming professional stunt performers.  Hollywood Advanced Stunt Course instead is a 2 week course held in Los Angeles in May every year and taught by many of Hollywood's most respected stunt coordinators and specialists. There are specialized sessions in fire, air rams, decelerators, advanced sword-work, advanced wirework, horse stunts and much more. The European Stunt School offers an intense 6-day course involving basic stunts, but also advanced stunts like high falls, burns, wirework, handgun handling and pyrotechnics. Despite the differences all the professionals who have been working in the field for a long time agreed that it takes a long and hard training period to become a master. The fees vary largely according to the duration, the type and the location of the course: a 3-week full-time in stunt academy costs about $4656 (around 3,270 Euro) whereas the European Stunt School 6-day course has a tuition of 690 Euro (deposit: 300 Euro) included in the price is: all lessons (breaks/time-outs will be held when needed) and all equipment necessary for the lessons.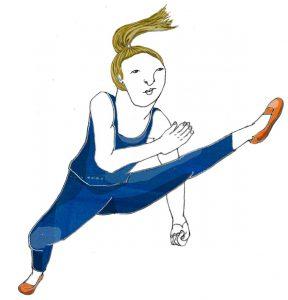 CAREER PROSPECTS
If you really think that this profession may be your cup of tea you should bear in mind that you have to work in the industry for at least 5-10 years before being established as a professional stunt performer. The opportunities are to be found in two main areas: a) Live shows such as Movie World, Universal Studios and theatrical groups and b) Film and TV such as television series, telemovies, feature films, documentaries and TV special features.  As for the earnings, Colin Handley explains to us that a stunt performer can earn around $200 to $300 per day for live shows, and in film and TV from $500 to $2,000 per day. Then you can be paid adjustments based on the skill and danger of the stunts performed. Due to the vast diversity of stunt work, this can range from $50 to $10,000. Going back to Europe one day of shooting a fight or fall is worth approximately 400 Euro pay. Unfortunately, Hassan Raghu reminds us, "stunt performers have to depend on the no of productions in their respective states if a particular film needs stunt situation at all" and, as Heather Arthur recalls, "there is no such thing as a steady pay check in this business". Work is indeed unsteady and competition fierce but a good suggestion from Sophia Crawford is to give a try where "the hub of the activity is. Currently it's Vancouver, Australia, Los Angeles, Louisiana and New York."
STUNT'S LIFE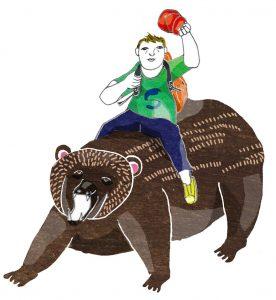 Being a profession where passion and love play a great role, the satisfaction usually meets the expectations: both Sophia Crawford and Heather Arthur tell us that they enjoy traveling so much and seeing the world, and the work itself is very exciting as "you never do the same thing twice" Sophia Crawford says. On the other hand they underline the uncertainty of when and where your next work will take place and the internal politics that often goes on behind closed doors and "can get really nasty sometimes" states Heather Arthur. As far as the safety is concerned, everyone stunt performer is clearly aware that injuries are par for the course and freak accidents can happen to professionals too. Although there is a high chance of physical injury "precaution has been taken to make it as safe as possible" says Jacob Sebastian Malm, adding that "if something goes wrong, the performers and safety crew know how to act within the situation." And just to make it clear for those who do not know closely how the action takes place "each stunt is carefully choreographed and rehearsed over and over until it's ready and safe to be filmed" Sophia Crawford specifies. Undoubtedly enough, it is not the kind of job for the faint of heart but if you are prone to adventure and roaming life, eager to try your athletic skills and test your determination and force of will, you may find yourself hanging from a cable hundreds of feet in the air, getting hit by cars or ratcheted into walls sooner than you expected. And suddenly realize that you do like it.
[W     europeanstuntschool.com     stuntacademy.com    stunt360.com]
Illustrations by Yihsin Wu, Taipei, Taiwan
Published in the hard-copy of Work Style Magazine, Spring 2011