Progress in many areas has become synonymous with diversity. And so it is in the food services arena. With employees from many cultural backgrounds and religious faiths, companies need to emphasize variety in the kitchen so that dietary options will be available in the dining areas, accommodating all the preferences and needs of their workers.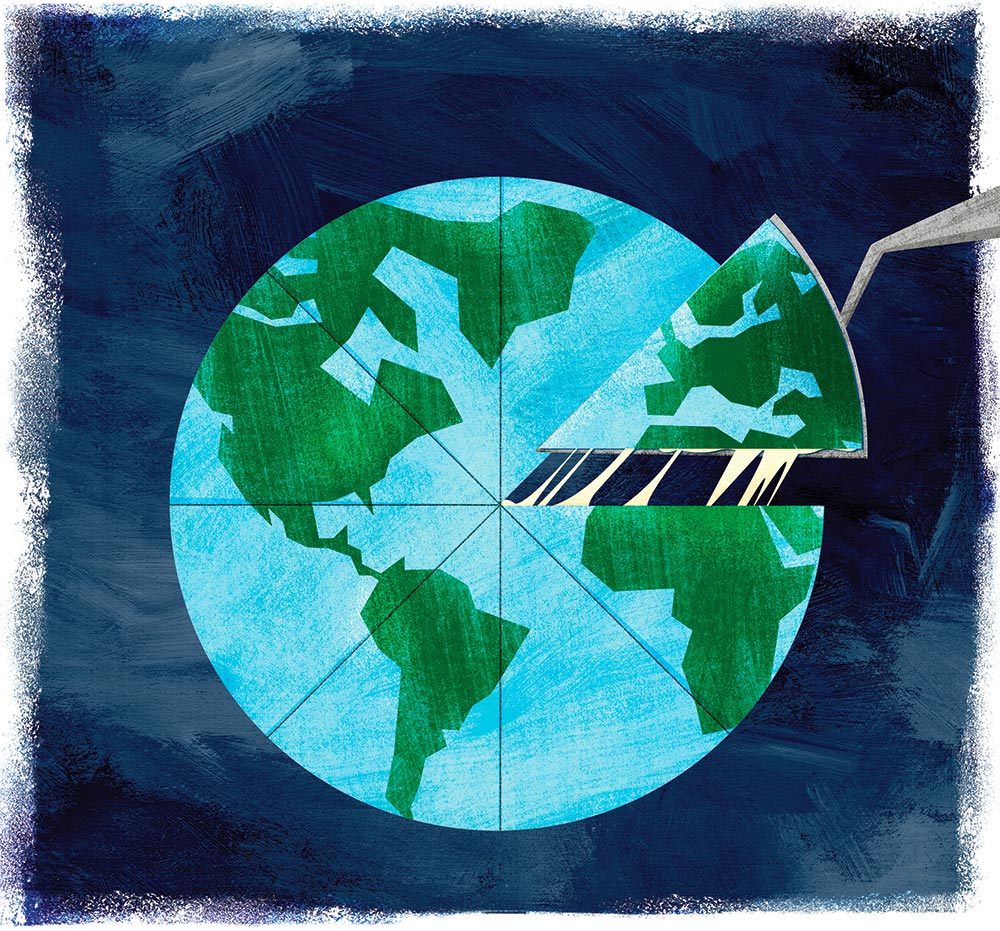 WHAT'S HAPPENING IN FOOD SERVICES
Today, custom meal choices are found in all sorts of hospitality and foodservice operations, including corporate dining, schools, supermarkets, quick service restaurants, and even sports and entertainment facilities. Gary Prell, Vice President of Culinary Development at Centerplate explains: "Thousands of people are brought together for meetings of all kinds—social, business, religious or educational. And they all share something, namely breakfasts, lunches and dinners."
Meeting planners and employers who want to keep their guests, delegates, and employees attentive and responsive know that "the provision of food and beverage is critical. It's very hard to pay attention when hungry or thirsty," says Prell.
Several decades ago, vegetarian meals or fruit plates were provided upon request for individuals who were uncomfortable eating meals heavy in protein. At the time, little thought was given to the preparation of such meals. "Today, however, is much different," says Prell. "People have much different tastes and preferences, and more sophisticated palates. And we are, as a society, much more susceptible to food allergies, and so value personal choice with regard to the foods we eat and beverages we consume." What may have begun as a fruit plate has transitioned into vegetarian meals and beyond, he explains. "Typically for a large conference, we expect between 7 and 8 percent of the guests to request custom meals, so serving a fruit or vegetarian plate will no longer suffice. There are simply too many diverse requests and needs to satisfy, the most common including diabetic, gluten free, lactose intolerant, low sodium, vegetarian, Indian vegan, Kosher and Halal." Says Prell: "Our chefs take great pride in paying the same attention to quality, creativity and presentation in the preparation of custom meals as of the main meals. It's still about using great ingredients, handling them with respect and cooking with passion. They will purposely connect the custom meal to the main meal by coordinating the presentations and using similar ingredients so no guest feels singled out." Finland was the first country to offer free school catering to all pupils, initiating this practice in the late 1940s. Anu Kokko, Director, Marketing and Offering Creation at Fazer Food Services explains. "Our company operates in staff and student restaurants and schools in Finland, Sweden, Norway and Denmark where eating habits are similar. Today, our food options are broadening beyond lunch to include breakfast, coffee breaks, meetings, healthy snacks, and Take Away services. These are all important items; Take Away services, for example, are very helpful to employees in their everyday lives, enabling them to buy food portions, fresh bread, desserts, cakes, etc., for themselves and their families." According to many surveys, lunch and coffee breaks are very important to business as they allow co-workers to have breaks together, which promotes a better work spirit and reduces stress. This, in turn, benefits the whole company. Today, according to Kokko, Scandinavian area people tend to request a lot of vegetables and want to control their protein intake, since as weight control is becoming increasingly significant.

THE LAST WORD TO THE (MICHELIN) STARS
The way of eating has changed. "In our case, we deal with all kinds of clients and requests. So instead of trying to satisfy them one by one, we fixed our menu so that everyone can find what he is looking for," says Matias Perdomo, head chef at Milan's Al Pont de Ferr. "We are a traditional 'osteria' from the outside; inside we're a highly innovative restaurant, offering a menu and a tasting menu divided into sections: our tradition, innovation, panoramic view, and madness. We like to play, so to speak. In every little section you'll find both traditional tastes and innovative techniques That's our way of focusing on people's changing tastes and demands." Nowadays, customers want innovation in form but consistency in culinary style. They want a traditional and clean taste. Chef Perdomo claims his "Approach is getting an amazing response because we offer customers the chance to try creative food with a taste they already know from tradition. On the other hand, we also offer traditional food with a shape and presentation that you really don't expect." Pedro Subijana, chef-owner of San Sebastian's Akelarre agrees with his colleague. "Ways of eating are changing, especially for private and informal occasions. Of course, there are still exceptional dinners at high-end restaurants, but it's a minority of people who now do that. Most prefer informal eating places like tapas bars, where you can have a quick bite and a nice wine. This is primarily due to the economic crisis, but also because the younger generation doesn't like fancy or formal environments." What is expected of a place like Akelarre? Quite simply, the best! And it should be unexpected and fun–and served with good wine. "Our staff," says Chef Subijana, "is perfectly conscious of different dietary needs, and we have options available for all of them, as well as for allergies and food intolerances, which today are more common." Clearly, the menu for employees eating out for pleasure is completely different from what they eat in the company's canteen. Subijana notes that "food served in company dining halls is always criticized, and people always ask for a lot at a very low cost. Special diets are relatively manageable, but a thorough consciousness and acceptance of special needs is key, as lack of awareness often results in someone feeling rejected. Luckily, as soon as one knows the requirements of a specific diet, one can adapt multiple menus. Both kitchen and front-of-house staff need to have a wide knowledge of different diets to be able to standardize menus as necessary," concludes Subijana.
Things seem to differ at the other end of the world. According to Chan Yan Tak, head chef at Hong Kong's Lung King Heen, there hasn't been a big change. He explains: "Cantonese cuisine is simple and always uses less oil and less salt to maintain the real taste of the food. People believe that Cantonese meals, such as steamed fish and stir-fried vegetables, is healthy. So the only change we've seen is that people today ask for a lot of organic products".

---
SOME HEALTH CONSIDERATIONS TO KEEP IN MIND
The World Cancer Research Fund offers a health checklist that employers and employees should always keep in mind:
Keep in shape. Scientific evidence shows that excess weight and obesity are significant risk factors for several types of cancer.
Exercise daily. Suggestions include walking (at least part way) or biking to work and taking the stairs instead of the elevator.
Limit your consumption of high-calorie foods and sugary drinks, such as prepared meals, snacks, desserts, and sweets. Replace sugary drinks with water. Consume fast food in moderation.
Choose most of your calories from the vegetable food group. Eat least five portions of fruits and veggies. Include cereals and legumes in each meal, and limit the use of bread, pasta, pizza, and rice.
Limit your consumption of red meat to ideally less than 500g (about one pound of beef, port, lamb, goat) a week, avoid fatty sections. Emphasize poultry and fish; avoid cold cut, or cured, meats, canned meat, and sausage.
Limit your consumption of alcoholic beverages to a maximum of 2 units a day. (One unit equals a glass of wine, for example.)
Limit your consumption of salt and avoid legumes and cereals contaminated by mould. To flavor foods, use herbs, lemons, balsamic vinegar, and spices.
Obtain required nutrients by dietary means. High consumption of supplements can affect the risk of cancer, and in some cases increase it.
[W   akelarre.net    centerplate.com    fazer.com    fourseasons.com     pontdeferr.it     wcrf.org]
Published in the hard-copy of Work Style Magazine, Fall 2013