Yeguada Plaza de Armas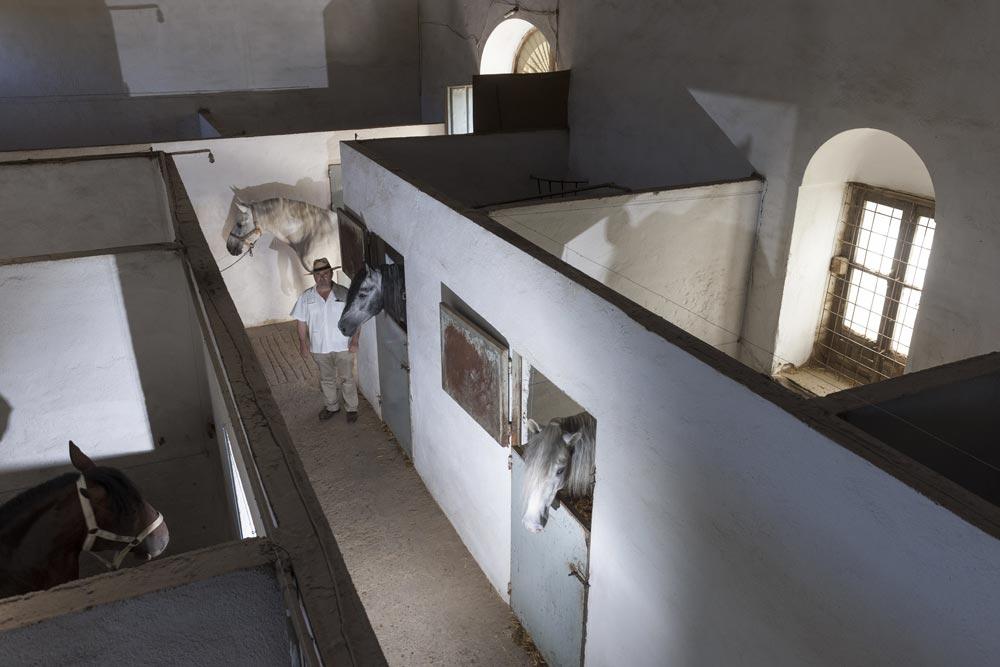 THE CHARACTER
Florencio Moreno is one of those people that if they didn't exist it would be necessary to invent them.
We arrive at Valle de los Pedroches, Sierra Morena, province of Cordoba, early in the morning. Domingo Muñoz Moreno, Florencio's cousin, welcomes us and first of all he invites us to a kiosk to eat a tortilla of arguable taste. Where is Florencio? We go to the field and then he'll join us. After having visited three different fincas of the property, I shyly ask the question again… and Florencio? Don't worry, he's coming now.
It's nearly midday and we have visited almost all the property, I've also taken some selfies with the pigs of one of the fincas (I can't remember its name) to pass the time. Paolo, the photographer, elbows me: try and see where Florencio is. Domingo, excuse me, does Florencio exist? Yes, yes…let's take some other pictures in the meantime. Around one pm Florencio materializes. Like: "Thank God, he remembered."
Here he is, he is real. What a beautiful boy, let's see if he speaks, too… "I'm Florencio, follow me, we're going to the finca where the stallions live." At that point I really wanted to knock him down, but I had understood that the person was interesting , and most of all well-built…better to follow him. We reach this nth finca. Great, sure. Wonderful stallions.
On the other hand, Plaza de Armas is known exactly for the beauty of the animals that won a lot in morphology. In the meantime, Domingo slips away laughing under his breath, since he had understood that we weren't interested in seeing horses at all and that we just wanted to talk to Florencio. I'm distracted just a second and Florencio disappears. Domingo: "He'll join us for lunch." it was really a good lunch, with all of Florencio's family. He is friendly and tells us about the farm, the family, the history, the horses. After lunch…he disappears again. Oh no, where did he go?
We meet him again two hours later in a historic and very beautiful finca, immersed in the familiy's olive grove, near Cordoba. Finally we talk face to face. We are exhausted, but it was worth it.
We have a lot of pictures (Paolo worked on them all the day, spurred by Domingo). Let's say that the character Florencio is fascinating, we can't say he is a man of public relations, but the few words he said are all relevant and remind us that the substance has to be shown, not told.