Germany managed to leave the crisis behind and a positive future seems to await ahead thanks to a community of hard workers and the presence of several excellent companies.

by Angela Boskovitch
Germany is recovering from its worst post-war recession and the mood is positive after experiencing a GDP real growth rate of 3.6% in 2010, compared with the US (2.8%), EU27 (1.8%) and Japan (3.95%). The business mood is also upbeat. January saw the lowest unemployment rate since reunification and the IFO Business Climate Index for industry and trade improved for the consecutive 9th time in February. The recovery is due to increased exports, rising corporate investments, falling unemployment and the stimulus.
THE WINNING SECTORS
The World Economic Forum's Global Competitiveness Index 2010/2011 saw Germany move two spots to fifth place ahead of Japan (6th), the UK (12th) and France (15th). Germany's innovation capacity was ranked first and its infrastructure 2nd behind Hong Kong. Germany's largest sectors remain the automotive, electrical, engineering and chemical industries. In contrast with other industrialized nations, Germany's manufacturing exports remain strong due to high-value production by its Mittelstand, SMEs which provide 3/4 of all jobs. Germany's R&D capacity is spurring innovation and gaining international competitive advantage in the areas of health, climate and resource protection, energy, mobility and security, and in key technologies like ICT, nano- and biotechnology, photovoltaics, energy-efficient mobility and medical engineering.
REGIONAL DIVERSITY
The industrial heartland with the most innovative firms is now in southern Germany. "In former times it was the Ruhr Area with heavy industry; now it's the manufacturing industry in the South around Munich and Stuttgart," says spatial economist Heiner Röhl, Cologne Institute for Economic Research. Berlin remains a kind of anomaly, although the German Institute for Economic Research found Berlin's annual economic growth from 2005 to 2009 improved by 1.7% due primarily to the health and education sectors. The financial center of Frankfurt has Germany's highest GDP; the city hosts major companies and trade fairs, and its airport the most travelers in Germany. Logistics also defines the city-state of Hamburg, Europe's 2nd largest port, with growing commercial ties to Asia.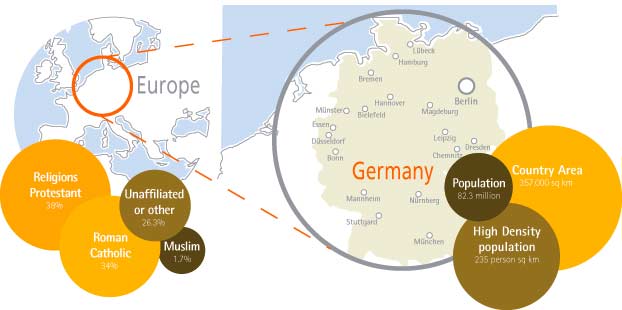 WORKFORCE FOR INNOVATION
Over 43 million people make up the German labor force, the EU's largest. The dual education system provides workers with either vocational training or a university education. Twenty six percent of higher education graduates in Germany from 2006-08 came from engineering or the natural sciences, ahead of the EU (22%) and US (15.4%). Eigtheen percent of EU scientists live and work in Germany. Despite women comprising more than half of university graduates, however, limited day-long schooling and childcare make combining work and family life difficult. In her weekly video address ahead of International Women's Day, Chancellor Angela Merkel said, "A lot will have to be done in the next few years." Falling birthrates mean a skilled labor shortage must be filled by young skilled workers from abroad.
WORK-LIFE BALANCE
According to a 2010 Company Survey on Work-Life Balance by the Cologne Institute for Economic Research, four out of five German companies are concerned with reconciling work and family life. Companies like Deutsche Post/DHL are introducing new schemes for child care, work schedules, wages and payment. At Siemens, a Family-Aware Personnel Policy provides on-site child care, flexible working times and conditions, and the ability of employees to take up to a year off to care for elderly family.
Published in the hard-copy of Work Style Magazine, Spring 2011