With its plummeting population, this city seems almost uninhabited. In reality, though, it's a dynamic and innovative place, assuming a new role after a long crisis.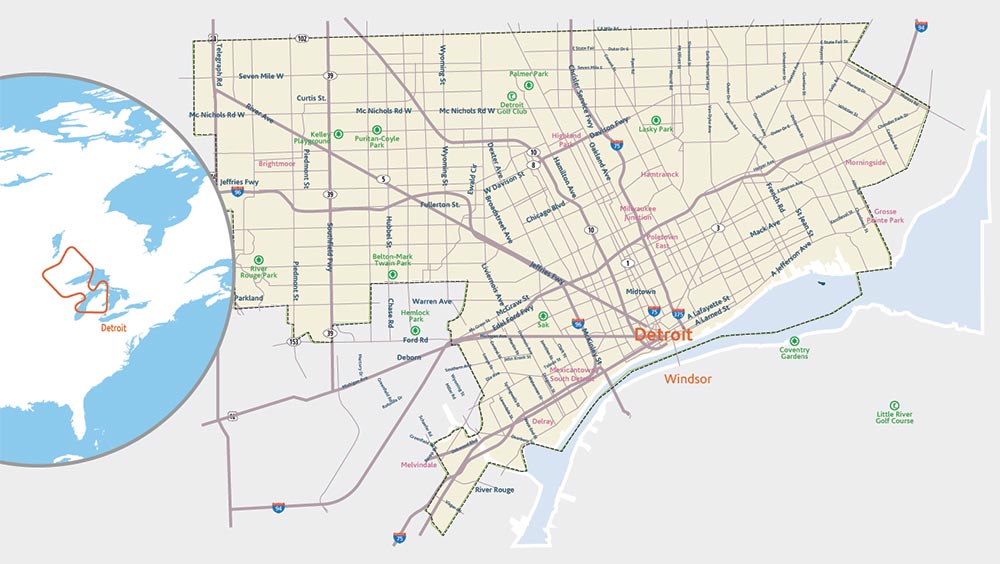 FROM THE PAST TO THE FUTURE
We went to Detroit, Michigan. It is the first city to be declared bankrupt in the world and is currently struggling against crushing debt incurred during decades of economic decline and financial mismanagement, endangering bondholders and pensions. We thought we'd find a twisted and lifeless city of confused and resigned people, but instead we met folks who told of poor government and an old industrial city slammed by market forces.
AUTOMOTIVA SECTOR'S CRISIS
In late 2008, the US auto industry and its three major players (Ford, General Motors, and Chrysler), all located in Detroit, entered their deepest crisis since the Great Depression. Almost overnight, demand for new automobiles fell from an annual rate of over 17 million units to an annual rate of under 10 million units. In December 2008, UAW President Ron Gettelfinger, along with the chief executives of GM, Ford, and Chrysler, appeared before Congress to describe the situation facing the industry. To prevent the imminent collapse of the industry, the Bush administration granted GM and Chrysler federally guaranteed loans to allow them to survive into early 2009. In early 2009, within a month after taking the oath of office, President Barack Obama appointed an Auto Task Force to review the available options. With the loans running out and no recovery in sight, the task force held the future of GM and Chrysler in its hands. Without a government-supervised and supported restructuring of their debt, both GM and Chrysler would have collapsed, throwing hundreds of thousands of American workers on the street and leaving the retirees without medical benefits of any kind. Under that arrangement, both GM and Chrysler filed for bankruptcy, and were able to restructure their ownership and debt to give them the greatest possible chance of long-term survival. Today, after 5 years, and despite the city's bankruptcy, the automotive market is growing. Last October General Motors announced that the net revenue during the quarter was $39,0 billion compared to 37,6 billion in the third quarter of 2013, while Ford records third quarter pre-tax profit of $2,6 billion, an increase of $426 million compared to last year. "When you look at the automotive market, you have to look back to where we started and what happened, and consider the downturn in terms of the recession, especially here in the United States from 2008-2009, when industry sales dropped dramatically to 10 million units on an annualized basis. Now we're running at 15 million units in 2013. So when we say we're growing, we mean we're growing from a point that was essentially at its bottom. We can potentially see growth as the market recovers," affirms Christopher Son, Director of Investor Relations, Corporate Communications & Marketing at AAM.
NEW GREAT OPPORTUNITIES
In July of this year, the declaration of the Emergency Manager Kevyn Orr of the bankruptcy did not come as a surprise but as a new beginning, after decades of confusion. "The great opportunity brought by the bankruptcy is to reinvent the city and to provide a quality of life and quality of services that will attract a new generation of population to the city," states Gregg Martin, a director at GM. It also seems that this is a very stimulating time to work. "In my lifetime, there hasn't been a better time in terms of work to be in Detroit," states David Simon, President at Toggled.
Orr took an 18-month assignment in March to repair Detroit's financial situation, so to enable the city to attain long–term financial visibility. His goal is to augment public health, safety, and welfare.
RELOCATION THAT CHANGES THE LANDSCAPE
What has been happening for the last five years is that many are moving downtown into the central district. This is changing the entire landscape. Thousand of workers in the last 3 years have moved back to work in the city, and many of them are also living there. "The city of Detroit has lost population in the last 30 years, but they mostly moved to the suburbs instead of leaving the state. And now they are coming back to the center," declares Vince Thomas Chairman & Founder of Bill Highway.
Detroit is benefitting from the relocation of many companies from the suburbs to the central business district in downtown Detroit. In 2010, Quicken Loans, the third largest overall retail lender in the country, brought 10,000 employees downtown to the renovated Chase Tower building. TPG, a provider of interior and exterior commercial building maintenance and janitorial services, in August 2013 relocated its corporate headquarters to the Chrysler House in the heart of Detroit's financial district. Sixty-five managers and administrative employees have moved, and another 1,000 will utilize the space for training and administrative purposes.
RENEWED TRUST
"Before the bankruptcy no one trusted the city. We did not want to do business down there (central district) because we knew how much critical corruption there was. The fact that we are actually in bankruptcy as a city, for the business community is like the first step for things to change and improve. We are actually happy. People are investing more money now because they know it's being fixed."
So there is a very positive environment here," adds Thomas.
Companies from other sectors have also chosen Detroit as their headquarters, including Brick & Mortar, founded in early 2012, and Shinola. "I moved to Detroit in January and it's been an amazing transition. It's a very welcoming city and there is so much excitement happening here in the areas of art, food, and music. I'm very excited to be here," says Daniel Caudill, Creative Director at Shinola.
Photo story. The Oldest City
Elegant, harmonious, precious, austere, and majestic—this is Detroit to me. With a touch of European attitude, it rises skyward as only an American city can. Its "antiquity"? Somewhat laughable to a European. But its dignity is real: here is a dignity of great depth.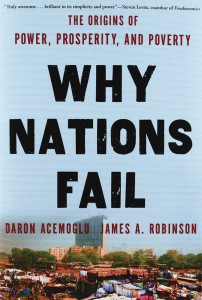 Daron Acemoglu & James Robinson
Why Nations Fail: The Origins of Power, Prosperity, and Poverty
[Crown Business, 544 pp., $ 21.62]
Acemoglu and Robinson show that it is man-made political and economic institutions that underlie economic success. Korea, to take just one of their fascinating examples, is a remarkably homogeneous nation, yet the people of North Korea are among the poorest on earth while their brothers and sisters in South Korea are among the richest. The south forged a society that created incentives, rewarded innovation, and allowed everyone to participate in economic opportunities. The economic success thus spurred was sustained because the government became accountable and responsive to citizens and the great mass of people. Sadly, the people of the north have endured decades of famine, political repression, and very different economic institutions—with no end in sight. The differences between the Koreas is due to the politics that created these completely different institutional trajectories. Based on fifteen years of original research, Acemoglu and Robinson marshal extraordinary historical evidence from the Roman Empire, the Mayan city-states, medieval Venice, the Soviet Union, Latin America, England, Europe, the United States, and Africa to build a new theory of political economy with great relevance for the big questions of today.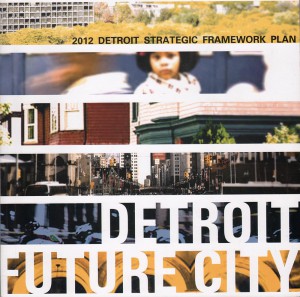 The future of Detroit has been described in two reports titled "Detroit Future City" and "The Detroit Environmental Agenda." This one identifies all of the city's ecological challenges and offers solutions summed up as "Path to Healthy City, Healthy People":
– Improve air quality to reduce health impacts.
– Protect and restore our waterways.
– Encourage resource-efficient homes, buildings, and neighborhoods.
– Adopt a waste policy of Reduce, Reuse, Recycle.
– Repurpose vacant land and buildings.
– Ensure access to diverse housing options that are safe, healthy, and energy-efficient.
– Ensure all residents, especially our most vulnerable, can safely and reliably get to desired destinations.
– City and residents work together to create healthy, equitable, sustainable neighborhoods.
[W    detroitenv.org    detroitfuturecity.com    cca.qc.ca/en/study-centre/1885-nancy-levinson-on-detroit    deadlinedetroit.com    detroitcreativecorridorcenter.com    detroitriverfront.org    detroiturbex.com    detroitworksproject.com    neweconomyinitiative.cfsem.org    zfein.com/photography/detroit    historicdetroit.org    aam.com    atwaterbeer.com    billhighway.co    gm.com    jiffymix.com    pmenv.com    shinola.com        detroitfuturecity.com    ltu.edu    m.gensler.com    smithgroupjjr.com ]
Published in the hard-copy of Work Style Magazine, Fall 2013