Why Motivating People Doesn't Work…and What Does.
Susan Fowler
[Berrett-Koehler, 216 pp, $ 24.95, 2014]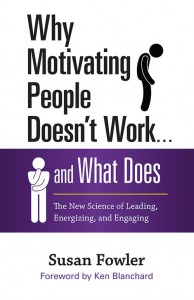 Motivating people is frustrating for everyone involved, and it just doesn't work. You can't motivate people – they are already motivated but generally in superficial and short-term ways. Applying recent, often surprising, psychological discoveries, Fowler lays out a tested model and course of action that will help leaders guide their people toward motivation.