Low-Hanging Fruit.
Jeremy Eden and Terri Long
[Wiley, 224 pp, £ 14.99, 2014]\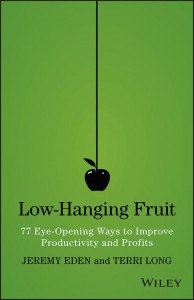 Every day thousands of hidden and ignored problems frustrate workers and customers and, in turn, reduce profits. This book provides rules that, if followed, will allow employees to harvest all the low-hanging fruit – and some that is not so low hanging – that will grow earnings, make customers happier, and increase morale.