A World Gone Social.
Ted Coine and Mark Babbitt
[AMACOM, 256 pp, $ 24.95, 2014]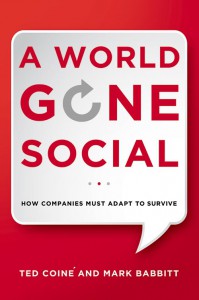 The Social Revolution's impact on the business world cannot be over-estimated. Like the meteor that likely precipitated the end of the dinosaurs, Social is the catalyst in an extinction event and business as we know it has changed forever. A World Gone Social offers an eye-opening look at fundamental and powerful changes the social collaboration era has set in motion.