Who Kidnapped Excellence.
ILLUSTRATION BY – HANNA MELIN
CONTRIBUTION BY – HARRY PAUL
Harry Paul, John Britt and Ed Jent
[Berrett-Koehler, 168 pp, $ 22.95, 2014]
Drawing on years of study and decades of experience, authors Harry Paul, John Britt and Ed Jent have zeroed in on five core qualities of excellence. In this entertaining and enlightening book, they tell how to give and be your best in each of these five critical dimensions and foster excellence in your organization and in your life.
n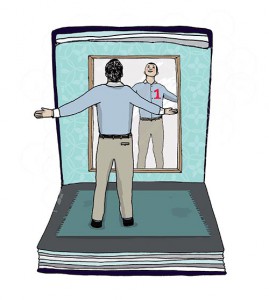 ws Why did you write this book?
hp I began a journey to understand excellence but soon found that a significant barrier existed. Excellence did not have a generally accepted definition. In short, a common working definition of excellence must be derived. It was in this spirit of inquiry that my coauthors and I wrote this text.
ws What is excellence?
hp First, we must "get a handle" on what is true excellence? I first looked at what makes up excellence and found that there are many traits. But ultimately I found all the traits fit into five core qualities of excellence: Passion, Competency, Flexibility, Communication and Ownership. A self-evaluation tool in the back helps you see where you are on your journey towards excellence.
ws What prevents great talents being excellent?
hp We get so caught up in the day-to-day demands of work and family and start to look at accomplishment as quantity, not quality. We get focused on what is right in front of us and forget that what we are doing is part of something much larger and involving so many, and we stop paying attention to what is important. Stop focusing on any one of the five pillars of excellence and average starts its insidious creep into your life.
ws How can obstacles be overcome?
 hp A good way to maintain a focus on excellence is having a clear understanding of the vision, mission and values of the organization. Implementing the five pillars of excellence. Looking within for your excellence, do not measure your excellence against others but do, be and give your best and know that excellence is your best.