What to Say When Things Get Tough.
Leonard S. Greenberger
[MC Graw Hill Professional, 256 pp, $ 20.00, 2013]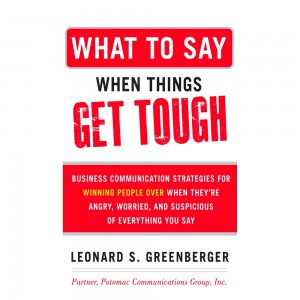 Leonard S. Greenberger, a partner at one of today's most successful public relations firms, offers verbal and nonverbal skills for handling communication crises in any public forum. The text provides communications strategies, skills and techniques that all business professionals can use to win people over when they're angry, worried and suspicious.