UNthink.
CONTRIBUTION BY – ERIK WAHL
Erik Wahl
[Crown Business, 224 pp, $ 23.00, 2013]
This is a book that will lead every reader to realize that we are capable of so much more than we think. It offers a new approach and describes tools to facilitate the creative process. UNthink is a clarion call to radically change the way you think and live.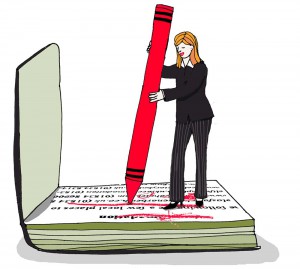 twsm Do you think some companies should change their way of thinking?
ew Yes, I do. Companies talk about innovation and creativity, but historically what I've found is just a lot of talk. Innovation involves risk, doing things that haven't been done before. And for companies that are bound by bottom lines, shareholder value, and based on performance, it's more comfortable to do what they've done before, especially if it's been successful.
twsm What tools facilitate creative action?
ew First, try to recapture the innocence of childhood. As children, we have that incredible ability to imagine endless possibilities, endless solutions. Then at school we are taught to answer questions the same way, to sit still and observe rules, to color within the lines. As adults assuming responsibility, we become more risk-averse– almost to the point of being put to sleep as if locked into a system. To unlock, to unleash our creativity, we need to rethink; we need to return to those childhood roots of boundless imagination and to explore new ideas and concepts from that perspective.
twsm How can somebody find his creative potential?
ew The individual must unearth and explore what he is passionate about and then let go, have faith in the process. Another metaphor would be "pushing the boat further away from the dock." We have been trained to keep boats tied to the dock so they don't drift away. But I'm encouraging people to untie the boat and push it out to see and discover what true majesty the ocean has to offer.
twsm For whom was this book written?
ew It was intended as a business book for entrepreneurs and for organizations, but I intentionally wrote from a broader perspective so that executives buying the book or using it at a corporate meeting, where I might be speaking, would take it home to their children, families, and communities. I hoped it would go viral. It's not simply about leadership or customer service; it's not about one element of business.