Turning Adversity Into Opportunity.
ILLUSTRATION BY – HANNA MELIN
CONTRIBUTION BY – JIM KOUZES
James M. Kouzes and Barry Z. Posner
[Wiley, 60 pp, £ 6.99, 2014]
Between layoffs, corporate bankruptcies, market ups and downs, and an anemic global financial recovery, trust in today's leaders has plummeted. Yet, even as challenges mount, the best leaders remain resilient in the face of adversity. In this new book, the authors of the legendary book The Leadership Challenge explore how leaders can bounce back and succeed in uncertain, trying times.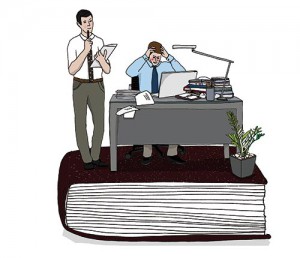 ws In your book you talk about challenges for leaders. Which are the most dangerous ones?
 jk In our research, when people speak about their personal-best leadership experiences they talk of times that are not "normal," are not the status quo, and are not about business as usual. Instead, they tell us how they turned around losing operations, started up new plants, installed untested procedures, dealt with conflict and crises, created a new business venture, struggled with poorly performing units, or built something where nothing before existed. The personal-best leadership cases are about firsts, about radical departures from the past, and about doing things that had never been done before.
ws How can leaders succeed in uncertain times like today?
 jk The first strategy for succeeding in these uncertain times is to broaden the context. Let people know that others have faced similar adversities in the past and that they've not only survived but thrived. You have to get people to see that they too can overcome the difficulties of today and tomorrow. It may not be easy, but it has been done before and will be done again. It's true of historically admired leaders, and it's true of today's everyday leaders. It's true for others, and it's true for you.
ws How is it possible to turn adversity into opportunity?
 jk Tell people the truth about what is going on and share honest information about the situation. At the same time, while you have to accept the diagnosis of what is happening, you should also defy the verdict that you are doomed. Leaders don't dwell on the threat. Instead they see change as a challenge and as an opportunity for renaissance and renewal. Then, fully commit to what's important. You can't overcome adversity until you know what you want and have the will and determination to go after it. People who turn adversities into opportunities also take charge of change, need to engage others and show they care.