Think Smarter.
ILLUSTRATION BY – HANNA MELIN
CONTRIBUTION BY – MICHAEL KALLETT
Michael Kallett
[Wiley, 240 pp, £ 16.99, 2014]
The book is the comprehensive guide to training your brain to do more for you. It is filled with real-world examples that demonstrate how the tools work in action, in addition to dozens of practice exercises applicable across industries and functions. Think Smarter is a versatile resource for individuals, managers, students and corporate training programs.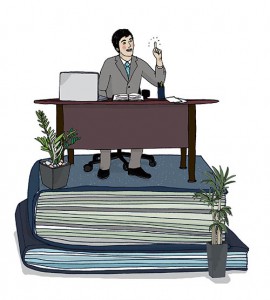 ws Why did you write this book?
mk It was 2003. I was an executive at a big company. We were 20 people in a meeting discussing what we wanted to be in the future. Most people seemed to hone in on just being "bigger". There was little discussion about quality, customer satisfaction, services to our customers, or growth for our employees. There wasn't even much discussion on how to get bigger. At one point, I asked myself if anyone in the room was actually doing any "thinking". The answer was no.
ws Your book means that intelligence can be increased and trained? How?
mk Actually that's not quite right. I do not claim, and it's very controversial, that intelligence can be increased or trained. What can be increased and trained is the ability to use your intelligence in a better way.
ws How do you think you can make a difference with your text?
mk In this highly competitive, fast-changing and more and more complex world we live in, people need better thinking skills. Thinking is the foundation of everything that everybody does. We all make so many unnecessary errors, and many of these can be prevented with just a little more thinking.
ws What does "critical thinking" mean?
mk To me it means taking yourself (your brain) out of "Automatic" mode and putting it into "Manual" mode. Automatic is your everyday thinking, often not thinking, just doing. Manual mode is stopping and being cognizant of what's going on.
ws Thinking requires a lot of energy. How can people invest even more energy after their full days at work?
mk Ah, yes, thinking actually does require a lot of energy… one of the reasons why we don't do too much of it! Nevertheless, much of Critical Thinking actually can be accomplished in just minutes and save a tremendous amount of time afterwards.