The Future of Work.
ILLUSTRATION BY – HANNA MELIN
CONTRIBUTION BY – JACOB MORGAN
Jacob Morgan
[Wiley, 240pp, £ 16.99, 2014]
Millennials will soon outnumber all other generations in the workforce, new technologies are boosting performance and cutting costs, and workers can work from anywhere at any time. This book explores the new behaviors, technologies and people entering the workforce and how to get the best out of them.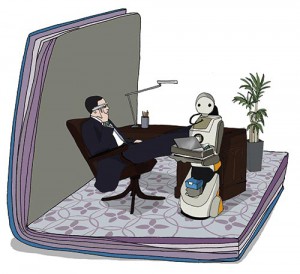 ws What are the main obstacles to managing people today?
 jm The biggest obstacle is abandoning our pre-defined notions and ideas of what it means to manage or lead. Most of the management thinkers or practitioners who developed the approaches that companies use today have passed away. Yet we still run our companies based on their ideas. It's not to say that previous approaches are bad or wrong, but they need to be updated. Most concepts that companies use to manage today were implemented before things like smartphones and collaboration technologies.
ws What is the meaning of work in the current world and what are the changes both workers and managers must prepare for?
 jm Work today is explained as follows: employees are cogs, managers are slave drivers, and work is drudgery. The Future of Work sees a completely different world where employees help drive how work gets done, where managers serve, lead, and empower their employees, and where organizations are distributed entities that focus on more than just profits as measures of success. The Future of Work details 7 principles for the future employee, 10 principles for the future manager, and 14 principles for the future organization. All of these principles provide a picture of where we are going in the future and they are all based on two words: "challenge convention."
ws What is work going to look like in the coming decades?
 jm The next few decades are going to look very interesting from several perspectives. On the technology side we will see things like wearable devices telling us when and where we are most productive, big data will allow us to gain amazing insights into how we work, and artificial intelligence solutions will act as our co-workers. As for how we work, we will definitely see an increase in the freelancer economy. This of course will bring a set of challenges around privacy and security that we will have to deal with.