Stressaholic.
ILLUSTRATION BY – HANNA MELIN
CONTRIBUTION BY – HEIDI HANNA
Heidi Hanna
[Wiley, 208 pp, $ 21.80, 2014]
The solution to stress addiction is to build in and prioritize optimal rest and relaxation on a holistic level − body, mind, and spirit − in order to consistently recharge and create a more resilient operating system. Stressaholic shows you how to win the war on stress without limiting progress by creating an optimal performance pulse of stress and recovery for life.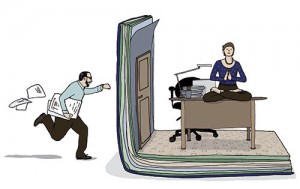 ws Why did you write this book?
hh I saw that people struggle with feeling the need to be "on" all the time. When you're not used to it, taking it easy can be one of the hardest things to do – a bit like detoxing from any other stimulating substance such as drugs, sugar or caffeine.
ws What is stress? How can stress affect body and mind in the long run?
hh It's important to understand that stress in itself is not bad, but simply a stimulus for change. Live experiences bring with them the need for an energy investment in order to adapt to a new set of guidelines, and while the outcome should be positive, if we're running on empty even good stress can cause negative consequences such as fatigue, depression, anxiety, inflammation and exhaustion.
ws How do you think you can make a difference with your text?
hh It is my hope that it will help people become more aware of the pandemic we are facing with regards to unmanaged stress. It is my hope that readers will see stress in a new light and begin to develop a self-care strategy for building greater resilience.
ws Who is your book for?
hh For everyone, but especially for people who know they should slow down and find it difficult to make time to do it. I hope that recognizing the addictive nature of stress will be helpful.
ws What can we do to release stress and charge batteries every day?
hh Mini-meditations, or what I like to call Recharge Breaks, focus on bringing awareness to the breath and relaxing the body while you quiet the mind. It's easier said that done, since we've trained our brains to be on high alert and do mental gymnastics throughout the day. This is why it's important to focus on shorter training sessions at first, and as you practise you will be more able to sustain this calm state for longer periods of time and tap into it when you need it most during the day.