Strategic Connections.
ILLUSTRATION BY – HANNA MELIN
CONTRIBUTION BY – ANNE BABER
Anne Baber, Lynne Waymon, André Alphonso & Jim Wylde
[AMACOM, 256pp, $ 21.95, 2015]
With old command-and-control methods replaced by openness and transparency, networking has become an essential professional skill. Unveiling eight indispensable competencies for the new network-oriented workplace, Strategic Connections provides practical advice for building better, more productive business relationships.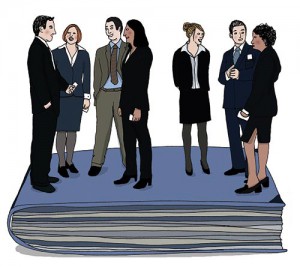 ws Why did you write this book?
 ab This book takes networking to a new level. It shows individuals how to be more successful, no matter what their job type or job level. And it shows organizations how to encourage employee networking and draw on the power of these networks to accomplish wider goals. It's a must-read for leaders who want to bring in the business, increase collaboration, innovation and engagement, and take productivity to new heights.
ws Why has networking become an essential professional skill?
ab The old command-and-control style of management is disappearing. In its place, a new kind of environment is emerging. We call it the "network-oriented workplace" (the NOW). To be successful in the NOW era, employees need skills for collaboration. Building trust-based relationships is the only route to collaboration.
ws What are the advantages of networking?
ab When you add networking to your repertoire of skills, you'll be able to complete some key actions such as: getting the job done faster and better; advancing your career; contributing to achieving organizational goals; and having a bigger impact.
ws What is the role of today's technology?
 ab Put technology in its place. Use it as your complementary – not your primary – mode for connecting. For building trust, nothing beats face to face. If you must build trust remotely, use face-to-face techniques, like storytelling and asking good questions, to encourage people to trust you and to demonstrate your trustworthiness.
ws Why should networking include advanced face-to-face relationship-building skills?
ab In our book, you'll find the eight networking competencies for the NOW. Our company, Contacts Count, has been training people worldwide in networking skills for 25 years. We developed these competencies working with clients in business, academia, and government. These competencies provide you with all the tools you need for networking inside and outside your organization. Once you master them, you'll be able to network with confidence and professionalism.