Power up your Confidence.
ILLUSTRATION BY – HANNA MELIN
CONTRIBUTION BY – ALICE MUIR
Alice Muir
[Pearson Business, 240 pp, $ 29.99, 2014]
It's the single skill that matters most – whatever the situation. From meetings and presentations to negotiating, selling and managing staff, better confidence will give you better results. It'll make you more capable and convincing, it'll raise your performance and prospects, and it'll give you the courage and determination you need to succeed.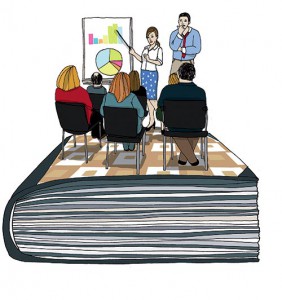 ws Why did you write this book?
am My book brings together key features of today's workplace and picks up on these common concerns, offering straightforward and practical hints and tips.
ws What is confidence? And why is it important for employees at any level?
am Confidence is one of those things you don't think about until it's not there. Since change is almost a constant feature one needs the ability to extend one's comfort zone for personal well-being and success at work.
ws How do you think you can make a difference with your text?
am Providing well-tried techniques and recommendations garnered from decades of experience helping people build their self-confidence. When these are put into effect, personal well-being and confidence will improve, and this can rub off on those around you. Company productivity and quality of service can pick up too.
ws Who is your book for?
am This book is for everyone faced with these kinds of situations in the workplace. Though the workplace is the main focus of the book, most of the material can side step quite easily into everyday life too.
ws How important are soft skills in business?
am In the workplace, confidence has been called a "soft skill", one of those personal attributes that make you a more effective person and enhance your "employability". I see confidence as the ultimate business skill.
ws How can confidence be grown?
am Confidence is grown by learning effective techniques and strategies that will help you perform better in those activities where you currently feel less assured. Putting these new ideas into action will enhance and energize your performance, and so build and maintain self-confidence.