Overcoming Fake Talk.
ILLUSTRATION BY – HANNA MELIN
CONTRIBUTION BY – JOHN R. STOKER
John R. Stoker
[McGraw-Hill Professional, 276pp, $ 20.00, 2013]
This is a practical guidebook to turn any sensitive, emotional, or confrontational workplace conversation into a positive exchange that provides benefits for both sides. The text offers serious exercises to prompt you into thinking about what you really want.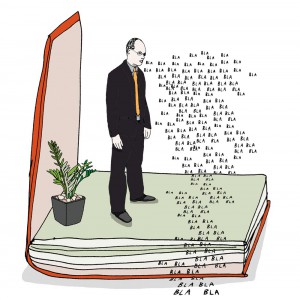 twsm Do you think that manner of speech is an important skill for a worker?
 js Yes, absolutely. If a leader can't communicate clearly, he will never get the desired results. Recently I was at a meeting where an issue arose that became a problem. Some said to others, "Why did you bring this up?" When I asked why they had raised an issue that was difficult for certain individuals, they gave such explanations as: well, I didn't know that it would hurt their feelings; I just don't like conflicts, so it was easier to do it myself. I think these answers were really excuses for not holding conversations. So part of my challenge is to help people look at their way of thinking, so that they can understand that the way they think about things drives their behavior.
twsm What advice would you give to a manager who wants to improve his conversation?
js If you want to build a house you need three things: the blueprint, the tools, and the materials. In conversations, the tools are the skills that managers need to have the conversation. The blueprint is the process for using those tools. And the materials are obviously the content or the subject of the conversation. I think that everybody has the subject, but some struggle because they don't know what skills they should use and don't have a process for using them. So they try as best they can, but it doesn't work or they have a bad experience.
twsm What do you think is the most common mistake people make in conversation?
js We are so preoccupied with what we think or want that we really don't listen very well. In my book, I divided listening as a skill into two elements: hearing as an auditory function; and attending, which is about presence. I don't think we do a good job with that. We may hear what people are saying–that's the auditory part–but we don't attend.
twsm Whom is this book addressed to?
jm The principles in the book are universal. I think there are ten personal examples and over forty business examples.