Let's Stop Meeting Like This.
ILLUSTRATION BY – HANNA MELIN
CONTRIBUTION BY – EMILY AXELROD – RICHARD AXELROD
Richard Axelrod & Emily Axelrod
[McGraw-Hill, 168pp, £ 11.99, 2014]
Meetings don't have to be a boring waste of time. Instead, they can be places where participants and leaders can get their work done productively, efficiently and happily. It is not an impossible dream. This book shows how. Richard and Emily Axelrod's new book offers a flexible, repeatable process that has already been used to run thousands of productive meetings in all kinds of organizations.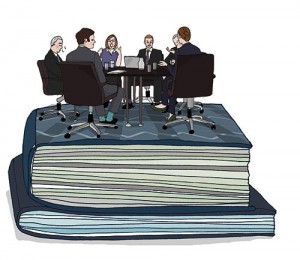 ws Why did you write this book?
 dea There are 25 million meetings held per day in the US alone, and millions more worldwide. We heard and experienced our own frustration with meetings. There was a time when Emily spent two hours in a meeting deciding on the color of the trays in a school cafeteria. We believed we had something to offer that was different from the typical meeting advice, which basically says reduce the time and number of meetings you conduct. Meetings are essential to make organizations work. If you want to make meetings productive, you have to do more than reduce and eliminate. You have to look at what goes on inside the meeting.
ws Do people really consider meetings at work a boring waste of time?
dea People don't consider productive meetings a waste of time. Unfortunately, studies show that 69 percent of meetings people attend are unproductive. People feel a tension between getting their own work done and the work of the meeting. Meetings become a boring waste of time when you don't know your role in the meeting, you are unclear about the meeting's purpose, the discussion wanders and gets off track, one or two people dominate the discussion and, finally, decisions are not reached.
ws Could this model be applied to all kinds of organizations?
dea Yes, we have applied this model in Fortune 100 companies, schools, not-for-profits, government, and with salespeople who use it as a selling framework.