Leadershift.
Orrin Woodward and Oliver DeMille
[Business Plus, 208 pp, $ 25.99, 2013]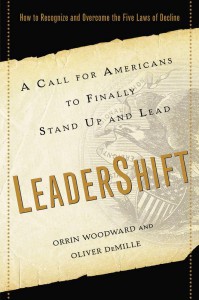 This text tells the story of how David Mersher, the successful CEO of IndyTech, sets out to discover why the United States is losing its leadership edge and what he can do to turn things around and make America truly great again. Mersher and his colleagues discover something few business leaders or citizens of free nations have yet to realize: Our world today is on the verge of a momentous LeaderShift.