Intelligent Leadership.
ILLUSTRATION BY – HANNA MELIN
CONTRIBUTION BY – JOHN MATTONE
John Mattone
[AMACOM, 256 pp, $ 27.95, 2013]
One of today's most respected experts on identifying and developing high-potential leaders, John Mattone defines great leaders by the strength of their strategic and tactical capabilities as well as their character.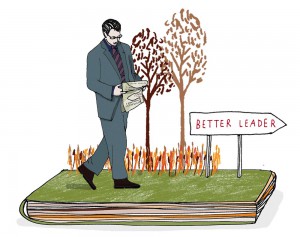 twsm Why did you decide to write Intelligent Leadership?
jm After years of working with leaders and future leaders, it was pretty clear to me that there was not a real road map for leaders to achieve a better understanding of strength and development needs. Over a hundred thousand copies or a hundred thousand books I have seen about leadership and everywhere I couldn't find a road map. Still this is the phrase I prefer, since it is indeed a map that will help leaders, present and future, formulate a plan to become even better leaders.
twsm What are the essential skills a great leader must possess?
jm To become a great leader you must develop nine skill areas. These include, critical thinking, strategic thinking, emotional leadership, change leadership, and a drive for results. What I describe in the book and tell future executives in coaching sessions is that employees form their judgment about you and your skill level as a leader by carefully observing how you exhibit expertise in the nine skill areas. Since your expertise, or lack of it, is on display, you must work constantly to build these competencies.
twsm Describe the highly successful leader
jm I have discovered that great leaders begin with a strong inner core consisting of a solid character, a robust value system, and a quiet self-confidence. It is clear that they and their team can work through any challenge. The inner core, of course, is connected to those nine critical skill areas, which compose a second core. And that's rare. There are certainly many good leaders. But if you examine the worlds of education, politics, organizations (both public and private), and governments across the world, you will find very few extraordinary leaders. This simply proves that excellence in leadership is a never-ending pursuit. You have got to be committed to be your best every day.
twsmFor whom was this book written?
jm This book is written for two groups. First, I've addressed the managerial class of any organization, including managers, sub-advisers, and senior labor executives. No matter where you work, if you play a leadership role, this book is for you. Second, it was also written for the younger generation who have great potential for leadership but lack a guide.