How to Change Minds.
ILLUSTRATION BY – HANNA MELIN
CONTRIBUTION BY – ROB JOLLES
Rob Jolles
[Berrett-Koehler, 240 pp, $ 17.95, 2014]
Rob Jolles knows this scenario all too well − as a salesman, father, friend and colleague, he's seen it repeatedly in business and in life. In this book, he draws on his highly successful sales background to lay out a simple, repeatable, measurable process for changing someone's mind. It begins with understanding how people make decisions − what Jolles calls the decision cycle.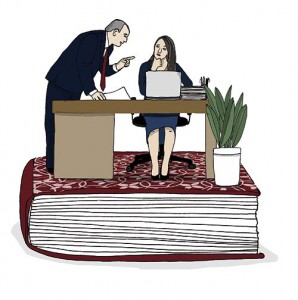 ws Why did you write this book?
rj I wanted to write a book to demonstrate how taking someone through a process that may very well upset them may be one of the most sincere acts of kindness we can extend to another. I wanted to write a book that demystified influence and drew a clear line between influence and manipulation.
ws Do you think that the ability to change minds is a talent one has in their DNA or can it be taught and trained, and hence improved?
rj I believe that anyone is capable of learning how to change the mind of another person.
ws How do you think you can make a difference with your text?
rj By writing a book that allows anyone to acquire the skills to ethically influence the actions of others we can literally save lives. The fact is, most people do not naturally fix small problems; they fix big problems.
ws Who is your book for?
rj Who doesn't need to learn how to ethically influence the action of others? The workshops I conduct are now filling with parents, managers, doctors, lawyers, chiropractors, dentists, police officers, NASA scientists… the list goes on and on. Quite frankly, I'm not sure who wouldn't benefit from learning these skills.
ws What is, in your opinion, the difference between influencing and manipulating?
rj It all comes down to who the action of influence benefits. If it only benefits the person who is using the process, it is manipulation. If it clearly benefits the person we are looking to persuade, it's influence. Strangely enough, in the end, it all comes down to intent.