Does it Make Sense?
ILLUSTRATION BY – HANNA MELIN
Palle Ellemann
(Self-published, 115 pp, $ 15.00, 2014]
This book looks at the how and goes much deeper than the benefits and practices in order to understand what has driven the development of seven recognized great workplaces and how the workplace has impacted their business. The analysis will bring out learning points for leadership, branding and the business of great workplaces. And it will give actionable advice for what you can do to create your own great workplace and great business.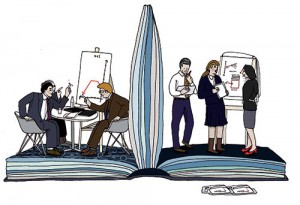 ws Many say, "It is easy to be a great workplace if you're a millionaire multinational." Is it true?
pe Sure, money helps, but at the end of the day it is all about trust and creating a meaningful workplace. Trust and meaningfulness can be developed under all circumstances and cost nothing, but make people stay and give their best.
ws What distinguishes a good workplace from a bad workplace?
pe In bad workplaces, people are disengaged and just waste too much time and energy on non-productive things. In a good workplace, relationships are based on trust and people find meaningfulness in what they do.
ws How do you think you can make a difference with your text?
pe I hope that many people will be inspired by the exceptional practices of these seven organizations and not least understand how values, vision and mission fit together with strategies, goals and actions.
ws In your book you bring some real cases like Admiral, TORFS, Telefonica Latin America. Why?
pe These cases are hand-picked from working ten years with the best workplaces in the world. Writers tend to focus on the "usual suspects" and it is somewhat diverting the focus and making people suspicious, because these companies are some of the most well-known brands with the biggest advertising budgets.
ws Is being a great workplace wanting to do good or purely a branding move?
pe I think most people feel that it is the right thing to do, but now the ethical reasoning for doing the right thing is almost playing against people's case for building great workplaces, because it can be opposed in the business world as going soft. This is a pity, because "doing the right thing" is actually an incredibly strong driver.