Decisive.
Chip Heath and Dan Heath
[Crown Business, 336 pp, $ 26.00, 2013]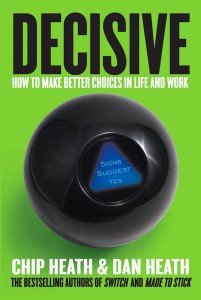 This book exposes what's wrong with how decisions are made by our political and business leaders, and by us individually in our personal lives. The Heath brothers uncover the latest psychological research to show why our brains are wired to make foolish decisions and how we can overcome our cognitive biases by using techniques mastered by decision makers of all stripes including judges, politicians, designers, military and business leaders and branding experts.