Crafting the Customer Experience For People Not Like You.
ILLUSTRATION BY – HANNA MELIN
CONTRIBUTION BY – KELLY MCDONALD
Kelly McDonald
[Wiley, 197 pp, £ 16.99, 2013]
This is a practical guidebook that shows readers how to break the one-size-fits-all habit. Kelly McDonald explains why a customized approach to customer experience works best for growing business, generating loyalty, and creating "brand ambassadors."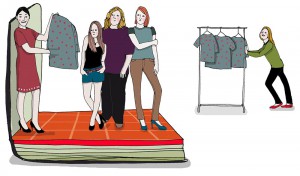 twsm For whom was this book written?
km I think it's for anyone in business who wants to improve customer experience and is looking for a way to differentiate his business from its competitors. This is usually the main concern of the small business owner who may not have a big marketing or advertising budget, but knows he can improve every customer's experience day by day.
twsm Do you think we are losing face-to-face communication?
km There is no question that people are doing more business online. I don't believe it's going to change, but the customer experience is still relevant, including the face-to-face part that all of us deal with. If you have an online business, the navigation of your website must provide a good experience. It is important to remember that digital communication is now just as important as face-to-face communication.
twsm Is customer service very important in a company? Why?
km I think it is very important because, with technology, many businesses have products of a similar quality, substance, or price as other companies. So it's very difficult to differentiate yourself. One way businesses are distinguishing themselves from competitors is by carefully shaping the customer experience. This is more important than ever since it's the one area completely within the control of the company.
twsmWhat advice would you give to deliver a better experience to every customer?
km There are two related pieces of advice: identify the high-potential customer you are not reaching but could; identify the needs of this customer and a way to satisfy them.