Anticipate.
ILLUSTRATION BY – HANNA MELIN
CONTRIBUTION BY – ROB-JAN DE JONG
Rob-Jan de Jong
[AMACOM, 288 pp, $27.95, 2014]
Business schools, leadership gurus and strategy guides agree – leaders must have a vision. But the sad truth is that most don't…or at least not one that compels, inspires and energizes their people. How can something so essential be practiced so little in real life? Vision may sound like a rare quality – unattainable by all but a select few – but nothing could be further from the truth.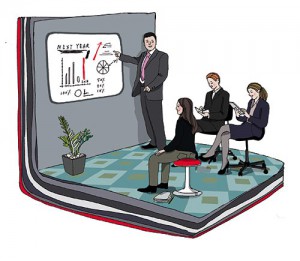 ws What stops leaders from developing a vision?
rd The value of a vision has depreciated. Some even make a mockery out of it, considering it something for dreamers and idealists, not for hard-nosed, results-oriented realists. So "vision" has developed an image problem. For a "vision" to become something powerful, it needs to be emotionally engaging: people need to feel something in order to persuade them. And it needs to be credible and authentic, which implies people need to see it back in how the leader behaves.
ws Do you think the ability to inspire people at work is a rare quality? If so, why?
rd It often seems more the exception than the rule. Most people focus on their managerial responsibilities of getting the immediate work done in an efficient way. That's important, no doubt, but if you aspire to lead, you'll want to go beyond merely managing the day job. Your people will eventually expect you to provide meaning to their efforts.
ws How can people expand their visionary capacity?
rd First, with content. You need refreshing ideas to form a powerful vision, and this requires that you learn to tap in to your imagination. Second, there are practices to integrate into your day-to-day to continuously nurture your visionary capacity. Third, self-awareness is key. You should be clear on what you stand for, what values you live by, and how you enact those things in your day-to-day leadership behavior. And lastly, you will need to work on how you communicate your vision most powerfully.
ws What are the key skills in anticipating changes?
rd There are two skills: the ability to see change early and to connect the dots. Visionaries are in tune with what's happening at the edge of their industries and responsibly integrate the early insights into a more coherent perspective. Obviously, since we're dealing with the future, we can never have a guarantee to get it right, but we can in a significant way increase our chances