Nerves of steel, huge creativity and an understanding nature are a must to
interpret people's desires, turn them into images and make them suit the body
so that people can be proud of them for life.
by  Paola Bettinelli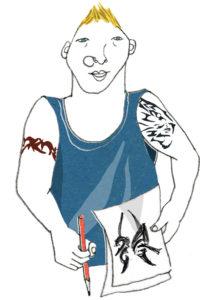 In New York City, tattoos were actually banned in 1961, only gaining back their legality in 1997. Now the "big apple" hosts numerous aspiring tattoo artists who open their own businesses there. Jeremy Garrett, one of the city's best tattoo artists said, "I had no intentions of becoming a tattooist. I had gone to art school to pursue a career in comic design and illustration. When I was in college I had friends who wanted me to tattoo them. I was scared to death. Tattooing was illegal in NYC when I started. But before I knew it I found myself in a career."
In Japan, they gained back their legality a little earlier, around World War II, but people with tattoos were still singled out because only criminals were marked with them in their history. It wasn't until recently that it was seen as a real career. Takami Horitoshi, owner of The Knockover Decorate Tattoo Shop in Jonago, Japan explained, "When I was very young I saw a Japanese tattoo artist at work and I was so impressed that I decided that I wanted to become a tattoo artist." No matter where in the world they are, the story tends to be similar. People begin tattooing as more of a hobby than a career. Ching, owner of East Tattoo Studio, Kaohsiung, Taiwan added, "I was totally fascinated and felt curious about tattooing. So I started doing some self-studies and explorations myself. A while later, I was kind of confident that I could do a good job in that area if I ever had the chance." Mauro Coppoletta, owner of The Family Business Tattoo, which is considered one of the best in London, stated, "I was studying law at the time and I just got involved with tattooing because I loved it so much. I wasn't actually a previous artist when I was at school. I can't claim that I was drawing since I was born. It's been hard work ever since."
TRAINING AND GAINING
Despite many varying opinions on the profession, all artists will agree on one thing. The only thing you really need to do this job is a strong passion for it. This may be the same for any other job, but the difference is that there is no set path for a career in tattooing. It doesn't matter if you study art or law, there are no certifications or courses, all you need is passion and practice. "Unfortunately, or fortunately, there are no formal schools or courses. There are a few with some instructors established, but no reputable ones," said Mauro.
The best way to learn is to spend all of your free time drawing and to knock at a studio's door asking for an apprenticeship, hoping that someone will be keen to share his secrets with you. It is also easier than you would think to find someone who would be willing to offer his or her skin for you to practice on. "As soon as you say you want to tattoo, or that you are a tattoo artist, people want tattoos," assured Mauro. But Jeremy added, "It's not a good idea to let someone tattoo you unless they are licensed, have done or are doing a proper apprenticeship and have their mentor observing the process who is willing to take over and correct any problems should they arise." Beginners will sometimes use oranges, pig skin, fake skin and, of course, their own skin to practice.
To become autonomous and open, if you want to, your own business, the masters recommend a period from 2 to 5 years working in other studios, but of course it depends on individual tattooist. "I was 16 when I started offering to do tattoos for money and at 23 I opened my own shop," said Takami. Opening your own business means more money, but also more expenditures for machines, ink and sterilizing devices. Beginners usually work for less money or for nothing at all. In the long run, money is normally not the main reason for choosing this profession anyway. Jesse Neese, owner of Nuclear Ink Custom Tattoo in Omaha, Nebraska, charges $125 per hour for the actually tattooing. He offers his skills as an artist for free, which includes all of the design and prep work. As he pointed out, "I could make more money doing other things like selling oil paintings, but I do this for the love of it. I love people and if I charged for the design, I would feel like I need to rush. If you create a design you take seriously enough to put on your body, the artist should take it seriously enough to do it right."
FROM CANVAS TO SKIN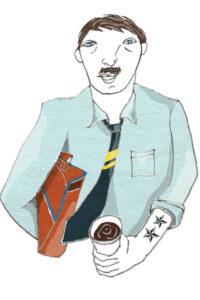 Not all tattooists are self-taught. A passion for drawing in general can be the starting point, but everyone discovers their passion for tattoos for different reasons. As Jeremy observed, "Artists like to have their work seen and appreciated and it's the ultimate form of flattery when a collector asks to have your work etched into their flesh." That is why many of them were painters first. They attend an art academy, they learn the basics of drawing, and only after that do they decide to move from their canvas to skin. They all agree that an art school is useful to improve drawing skills, yet not necessary. Although, Glennda McGann, Assistant Dean of Development and External Affairs at the Herron School of Art and Design, commented, "As someone looking for the right tattoo artist, I would seek a person who has a depth of knowledge in the visual arts, including art history, because that knowledge would certainly inform the execution of the work." Even if art academies don't dedicate any courses to tattooing, among the academics there seems to be a common view of the profession as a respectable art form, "which can be copyrighted and marketed just like any other illustrative art. All considerations of visual aesthetics apply: composition, design, use of color, draftsmanship, etc.," as Michael Savas, Chair of Illustration at Laguna College of Art and Design stated. After all, nobody can really give a definition of art, explained Thomas Lawson, Dean of the School of Art, at The California Institute of the Arts, "It is a mistake to judge art, or think about art, in relation to the materials or methods used to make it."
A PIRATE'S WORLD
Another good tip, albeit less academic, for finding inspiration and acquiring new skills is attending conventions. They take place all over the world and there are numerous ones throughout the year. Lots of tattooists after their apprenticeship start traveling the world, attending conventions, and tattooing anywhere, without having a base or studio. As Mauro accurately described, "Its a bit of a pirate's world. A lot of people, the most successful ones, learned on their own and then traveled the world, asking advice from others." Conventions are also a great occasion to promote one's own work and gain more exposure. Like Mr. Ching pointed out, "It is more of two-way communication. I get to learn various ideas, skills, and styles, while my work is revealed to large amounts of people."
So behind all those painted bodies and a look that is not traditionally synonymous with professionals, real artists are hidden who never stop studying how to turn your desires into reality and who take the responsibility to make them be part of you for all of your life.
[W     calarts.edu      herron.iupui.edu     skindemon.com     thefamilybusinesstattoo.com]
Illustrations by Yihsin Wu, Taipei, Taiwan
Published in the hard-copy of Work Style Magazine, Winter 2011