In an earlier era, the office was the Taylorist-inspired supervisory center that sought productivity improvements from other parts of the business. Nowadays both the workspace architecture and workplace culture of the office are being reconfigured to be wellsprings of new business creativity.
by  Fabian Uzaraga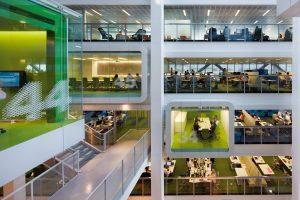 During the early 20th Century white-collar work was accorded high social status in anindustrial economy numerically dominated by (male) blue-collar workers. By the first half of that century, the office had became the professionalized scientific-management center from which a firm's subordinate functions of product manufacturing, distribution, sales or customer services were subject to productivity improvements. By the 21st Century, primary resource, agricultural and manufacturing employment in North America, Europe and parts of East Asia were largely mechanized, automated and/or offshored. Now that 'services' have become dominant sources of employment, the "command and control" culture of the (head) office is, in its turn, being scrutinized for productivity dividends. "Human creativity is [now] the ultimate economic resource," declares Richard Florida, American urban studies theorist and author of "Cities and the Creative Class." Output-raising efforts have always been part of new office mechanical and digital telecommunication technology adaptations. Staffing administrators have long incorporated psychology-informed testing for the recruitment or promotion of staff. HR professionals continue to devise varying combination of remuneration increments, bonuses and contractual incentives that may also include more convivial workplaces. The widespread adoption of open-plan offices were, moreover, as much a means of economically accommodating expanding numbers of white-collar workers, as was the requirement of fostering staff interaction and collaboration. Going beyond merely productivityimprovement, Edward de Bono noted that, "creative thinking is not a talent, it is a skill that can be learnt. It empowers people by adding strength to their natural abilities which improves teamwork, productivity and where appropriate profits." With firms depending more and more on the need to continuously innovate, create and successfully commercialize new services, architects and designers are now being asked to re-shape the traditional line-management modus operandi of offices. In 2004, the Mountain View California
campus headquarters of Google was designed as a strategically connected series of "hot zones" –
such as cafeterias or club-houses – where workers could circulate and interact, while also having access to "cold zones" for focused work. Googleplex' architect, Clive Wilkinson was more recently sought out to design workspace flows for the new Sydney offices of the Australian Macquarie investment banking group. The
interior of One Shelly Street was initially envisioned with a large gantry spanning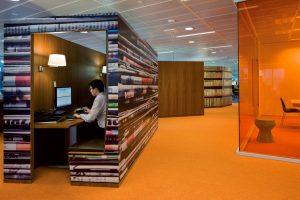 the top of a 10-story main atrium able to lift and position moveable meeting pods, much like a shipping container port. While less mobile than originally conceived, 26 variously-sized glass-enclosed cubes with brightly colored décor and furnishings still protrude from different floors into the building's spacious light-filled atrium. The true innovation is, however, the re-composition of One Shelly Street's workplace culture from top-down command and control to that of Activity Based Working (ABW) developed by Dutch workplace consultants Veldhoen + Co. In the ABW environment 3,300 employees are provided with not only storage lockers as their sole office anchor points. They are also entrusted to actively utilize a variety of optimized workspaces, ranging from the individualized and focused to the social and the collaborative, to deliver workplace results. In order to foster community, Wilkinson fashioned a "vertical Greek village of the future" with each floor divided into five "neighborhoods" themed with one of seven "archetypes of human behavior". These include the playroom, the treehouse, the garden, the dining room, the coffee house, the library and the square. "If you created an environment for people where there is natural light, natural space, theatre, and elements that really ignite the imagination, this is sure to have a positive effect on them purely as a human beings," says Anthony Henry, Division Director, of Macquarie's Business Services.
One Shelley Street Building at King Street Wharf, Sydney
It is the Macquarie Group's newest Sydney harbor-side development with 10 levels of office space atop one floor of retail. Planned with two rectangular floor-plates separated by an 8.5 meter wide void, its two low-rise slab blocks and resulting atrium are enveloped in dark glass.
Environmental and workplace Sustainability
With a distinctive white diagrid exoskeleton, the building sets new benchmarks for environmental sustainability, workplace functionality and seeks to achieve world's best practice certification.
[W  clivewilkinson.com    google.com    macquarie.com.au/mgl/au    veldhoen.nl]
Photocredits: Macquarie bank's offices by Shannon McGrath, ©2009 Clive Wilkinson Architects. All rights reserved. Any reproduction or publishing is prohibited
Published in the hard-copy of Work Style Magazine, Spring 2011