The internet is a fundamental part of many people's day-to-day working lives. Issues surrounding use, abuse and addiction in the workplace have surfaced concerning social networking games.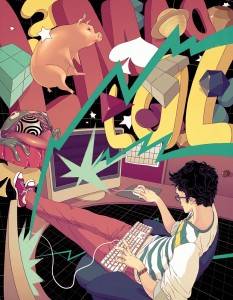 A company in Chicago recently installed software to track employee Internet usage and found that 8% of their staff members were playing Farmville at work. Findings such as this show it is not uncommon for office workers to spend workplace time on various non-work activities (e.g. shopping online, bidding in online auctions, emailing friends). According to a survey by the International Data Corporation, up to 40% of Internet access in the workplace is spent on non-work related browsing, and 60% of all online purchases are made during working hours. The same survey also reported that 90% of employees felt the Internet can be addictive, and 41% admitted to personal internet surfing at work for more than three hours per week.
AN ALTERNATE REALITY
Research into Internet addiction suggests that it exists but that it affects only a very small minority of users. These are usually people who use Internet chat rooms or fantasy role playing games – activities that they would not engage in except on the Internet itself. To some extent, these internet users are engaged in text-based virtual realities and take on other social personas and social identities as a way of  making them feel good about themselves. In such cases, the medium of the Internet may provide an alternative reality to the user and allow them to have feelings of immersion and anonymity, feelings that may lead to an altered state of consciousness. This in itself may be highly psychologically and/or physiologically rewarding.
WHO ABUSES THE INTERNET
It is clear from research in the area of computer-mediated communication that virtual environments have the potential to provide short-term comfort, excitement, and/or distraction. Despite worries about Internet addiction, it is Internet abuse that is far more common in the workplace. Research has also shown that males are more likely than females to engage in Internet abuse in the workplace (particularly young men), and that employees are more likely to rationalize their misuse of the Internet in the workplace when they perceive that their employers do not treat them fairly.
PREVENTION MEASURES
To overcome Internet abuse in the workplace, it has often been recommended that a company begin by deploying deterrent measures followed by preventive and then detective measures. If all these fail, then remedial measures are necessary. However, research has highlighted that monitoring (a prevention measure) and blocking (a detection measure) are the only actions to have significant effect on Internet abuse reduction in the workplace. Policies, contracts, and remedial action measures have considerably less impact.
ADVICE FOR EMPLOYERS
In my own work I have advised employers to (I) take the issue of internet abuse seriously, (II) raise awareness of Internet abuse issues at work,
(III) monitor Internet use of staff who are suspected of having problems, (IV) check Internet bookmarks of staff as those that are completely non-work related (e.g. online dating agencies, gambling sites) and (V) develop an 'Internet abuse' policy. Furthermore, an employer policy needs to let employees know exactly which behaviors on the Internet are reasonable (e.g. the occasional e-mail to a friend) and those that are unacceptable (e.g. online gaming, cybersex, etc.).
Using Internet games for positive change An interview with Ariel Hauter, CEO of Armchair Revolutionary, a new social game with activities that support worldchanging science and technology projects. Armchair Revolutionary objective: "to support outstanding science, technology, and media development, and organizations focused on solutions-based social change projects that will have a significant impact in solving complex social issues and problems."
twsm How did Armchair Revolutionary (AR) begin?
ah Several years ago, a new movement started entitled 'Games for Change'. The other trend, which AR follows, is called 'serious games'. Examples of serious games are for education or to train personel. Most of those games were developed by academia as a mental exercise. We spent two years developing AR, and the idea behind it was to create individual social change projects by crowdsourcing, tapping the masses, and appealing to a wider consumer driven audience.
twsm  What are some Armchair Revolutionary project examples?
ah In AR, a user attacks social issues, earns points, and competes against other players. We recently launched the 'Play 4 Change Lab', a production house focused on building these serious games for change. One project is called 'Make Waves', an ocean activism game that promotes sea sustainability. Players own and maintain a 3-by-3 foot of ocean to help reduce habitat destruction and pollution.
twsm  What's the future?
ah AR is preparing us for the future. Games are not for kids anymore. The average gamer is 38 years old, 58% female. The median age continues to rise as games are becoming more sophisticated and more pervasive in society. The next 100 years will be defined by science and technology revolutions. We want AR to be an incubator for launching projects that will take these movements forward.
[W    idc.com]
Published in the hard-copy of Work Style Magazine, Summer 2010