Four characters, four lives follow each other sharing two common denominators: a job and a dire social situation, where poverty, ostentation, discrimination, and depression trigger the usual response.
Dahai is a mineworker who rebels against the corrupt system of bosses to fight for the rights of people in his village. A lonely and abandoned man, forced to work apart from his family, he feels a growing anger inside and indifference toward others. A young receptionist in a local sauna is obliged to endure advances and violence from customers who think they can buy anything with money. A young boy looking for a reason to live goes from one discouraging job to another, from manufacturing companies to a brothel for wealthy businessmen.
Here is a real cross-section of contemporary China, which emphasizes the fast-paced, booming industrial development characterized by sprawling housing developments and new infrastructure alongside wooden huts.
The country handles the large demand for employment, but is also marked by a deep social malaise that provokes all the characters to react to their condition with marked violence against others and themselves. The search for a fair and equal life is represented in a scene where a horse, who's beaten bloody, is "freed" by his torturer and runs away with the cart; or where the receptionist, though accused of murder, is able to build a new life just where the story began.
Review by Carasoo This is not a happy movie. Some are dead, others murdered and there are suicides. Today, in China, many are rethinking society. But beyond the darkness, the film portrays the human search for beauty; amidst the deaths and dying there is an emphasis on style and elegance.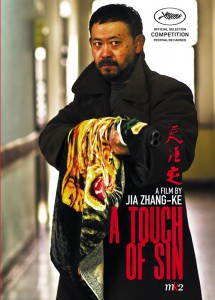 Characters Wu Jiang (as Dahai), Tao Zhao (as Xiao Yu),
Baoqian Wang (as Zhou San) and Lanshan Luo (as Xiao Hui).
Created by Zhangke Jia.
Directed by Zhangke Jia.
Produced by Yu Lik-Way.
Photos are courtesy of a 24 Film.
[W    atouchofsin.com]
Published in the hard-copy of Work Style Magazine, Fall 2013