How to Be a Power Connector.
Judy Robinett
[McGraw-Hill, 240 pp, $ 25.00, 2014]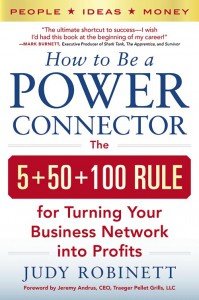 LinkedIn, Facebook, Twitter, e-mail, blogs, meetings, phone calls, text messages – we're saturated with business connections. But success is about quality, not quantity. In her book, Judy Robinette reveals her "5-50-150" method. Research shows that social groups break apart when they grow bigger than 150 people; other studies demonstrate that a group of 50 is the most efficient size for communication.